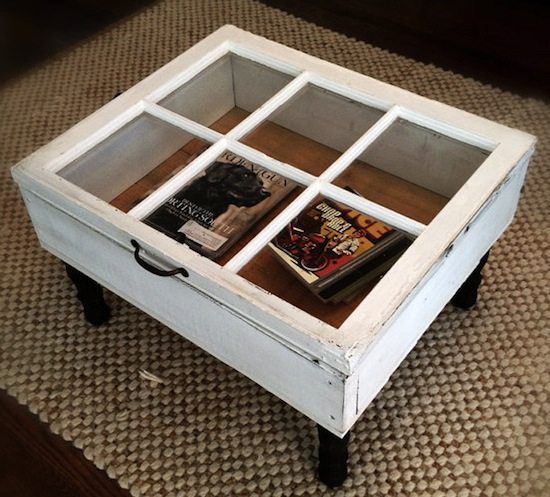 It should come as no surprise that with our passion for old items and repurposed treasures, we are also mad about collectables. Vintage trays, antique keys, He-man and the Masters of the Universe collection, if it's from an era bygone we are into it. But with this kind of hobby comes a need for display cabinets, and the best kinds of display cabinets are multi-functional. Enter the window coffee table. This clever unit combines our love for collecting with our passion for upcycling, turning an old window into a display coffee table. Brilliant.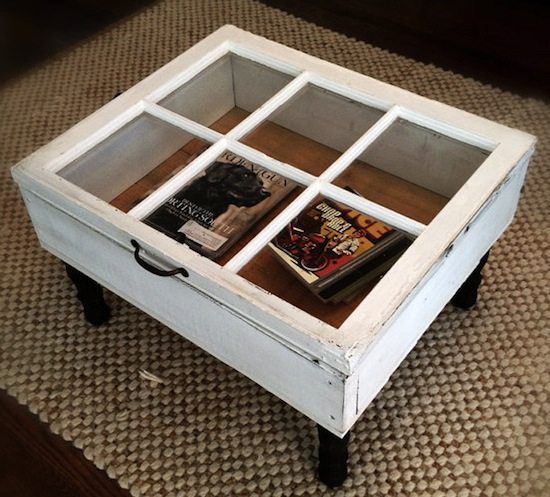 When you take a good look at this window coffee table you will see that the construction is actually quite simple. It is comprised of a salvaged window placed on top of a wooden frame with some unfinished wood as the backing. Add some table legs and you've got a complete window coffee table. It's so simple and so gorgeous that we'll bet you're gonna start looking at old windows a bit differently. Here's how to make your own.
How to make a window coffee table
To make your own window coffee table first measure your window. Now decide if you'd like your table to have a lip with the top of the table hanging slightly over the bottom.  If so subtract an inch from the length and width from the measurement and build your window base to this specification. Otherwise cut your 2x4s to the exact measurements. These 2x4s will become the box that the window rests on. Cut a sheet of plywood to the same size as the 2×4 base. Screw the 2x4s together, attach the sheet of plywood to the bottom and flip this box over. With the plywood sheet on top, pre-drill holes in each corner and screw in the wooden coffee legs. For this project you can use salvaged coffee table legs or even buy ready made ones.
Now flip the table back onto it's legs and attach the hinges to the window frame and top of the 2×4 frame.
Next prepare the window coffee table for paint by sanding down the window frame and wooden box. Prime the wood and let it dry. Next prep your window for paint by lining the window panes with tape to avoid getting paint on the glass. Choose your paint treatment and decide how much of a vintage look you'd like your coffee table to have. From crackle paint to high gloss it's up to you.
Paint and then allow time for your window coffee table to dry. Complete the project by adding a handle to the window pane top. Place your collectibles inside and admire your handiwork. Ready for more upcycling ideas?
Image source: Oh Glory Vintage