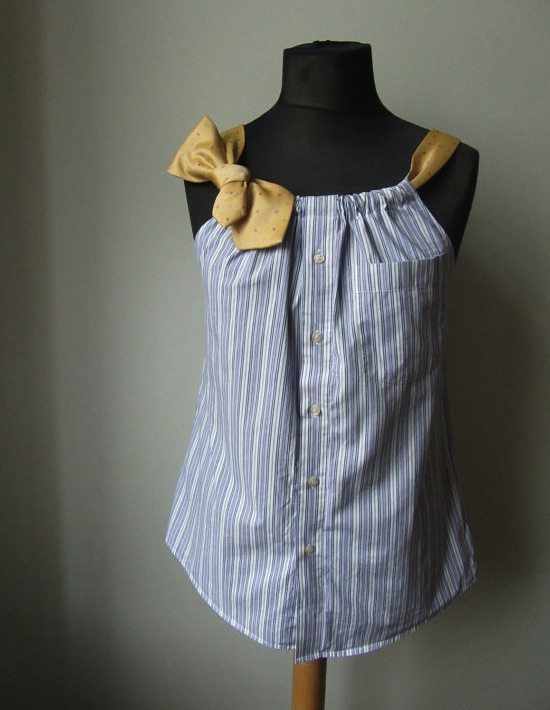 This upcycled dress shirt is an awesome project! We love the design of the top, and the fact that it's made from an old men's dress shirt and tie. It seems like every household has a few dress shirts and ties laying around waiting to be reused. You can even create this project without a sewing machine! Read on for the full tutorial.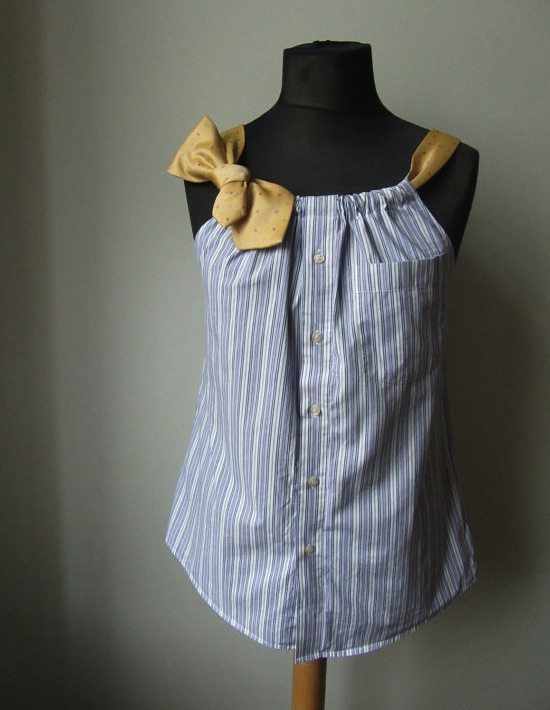 This upcycled dress shirt is a fantastic idea. You can take any unused dress shirt and necktie and create a fabulous new tank top. It's an awesome opportunity to get creative and mix and match colours and patterns.
To make your own upcycled dress shirt you will need:
1 dress shirt
1 necktie
Scissors
Safety pin
Needle and thread
Iron
To begin, select the dress shirt and tie you would like to use. Then cut the sleeves off of the dress shirt, also removing the seams.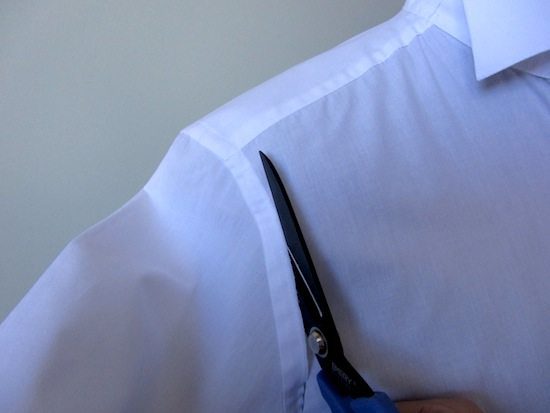 You will then want to cut off the top of shirt directly below the collar in the front and below the yoke in the back.
Finish the armholes by ironing a hem and stitching it. This can be done by hand stitching or you can use a sewing machine if you'd like.
The nice, tightly gathered neckline of the upcycled dress shirt comes from the casing in the front and back of the shirt. Create this casing by folding, ironing and stitching. The casing measurement should be slightly smaller than the smallest part of the necktie.
With a safety pin, thread the skinny part of the necktie through the front casing from left to right. Pull the necktie through until only the wide part of the necktie remains on the left hand side of the upcycled dress shirt. Now pull the skinny part of the necktie through back casing.
Adjust neckline gatherings to the desired fit and tie the ends of the necktie into a bow.
Step back and admire your new upcycled dress shirt! Feel free to play around with different combinations of dress shirts and ties to find your ultimate upcycled clothing style!
Thank you to Erin Stevens of Garage Couture Clothes for sharing her upcycled dress shirt tutorial! Feel free to check out her Etsy shop for more upcycled clothing and jewelry inspiration.