It's incredible what you can create with scrap metal and ingenuity! This scrap metal art was created by Derek McDonald, an upcycling artist based out of Orange County, California. Derek started welding in high school. He didn't have a job and so started welding any free "junk" he could gets his hands on. And so began Derek's career transforming metal pipes, broken metal chairs, nuts, bolts, screws and washers into scrap metal art.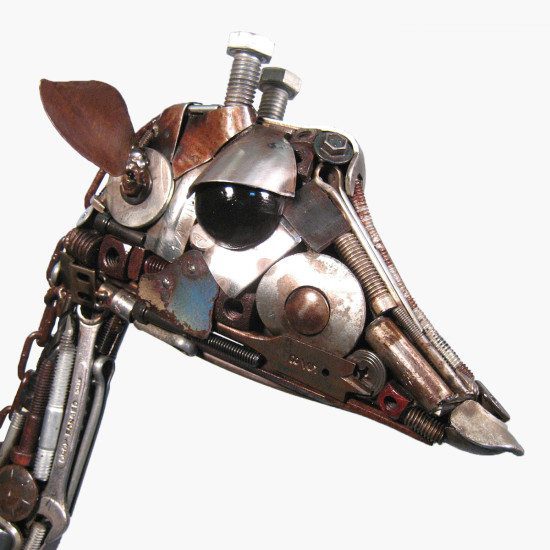 Metal is Derek's favourite material to work with. Like clay, you can manipulate it into different shapes. To get his supplies, Derek hunts at local salvage yards. He also gets a lot of materials from family and friends. They will come and drop off buckets and boxes of materials at his doorstep. Derek says he has a mini junkyard of sorts around his studio.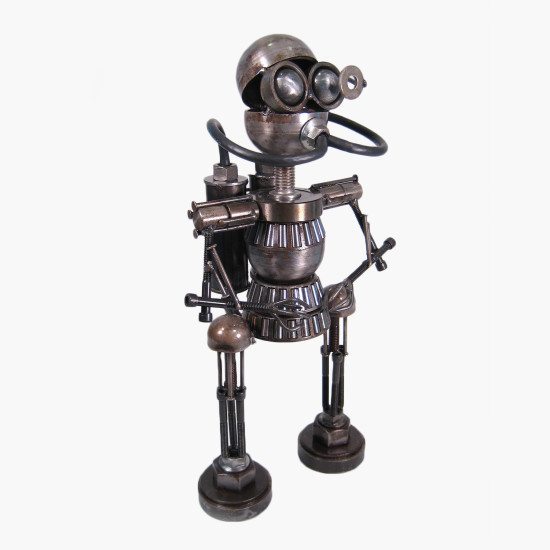 Your scrap collection is vital; so don't be afraid to take any random objects you can find, even if you don't have a "vision" for it right away. You might not think you can create with it, but eventually all those choices come it handy. Variety is important, and you'll want to have as much as possible to select from.
Derek says he takes his inspiration from his experiences and images he recalls in his head. He tries to morph objects into new shapes and purposes. Sometimes it involves combining multiple objects. The use of existing shapes and objects to create art is often more of a challenge than just using blank new material.
This chandelier was made with two worn out engine headers. After years of functioning in the dark as an integral part of a hard working engine, now is their time to shine. The gorgeous natural burnt sienna colour was developed over time.
Our favourite scrap metal art piece is Edmund. Edmund is a 4′ high giraffe made from nuts, bolts, screws, washers, spark plugs, sockets and any other piece of scrap metal Derek could find. Edmund took Derek over 200 hours to create. The most challenging part was that all of the welds were done on the inside. This process was a lot harder but lends itself to a very clean looking finish. We love that Edmund is 100% upcycled. Even the tail is from the welding glove Derek used to create this piece, as it was completely destroyed throughout the process.
Thanks for sharing Derek!
Source: Derek McDonald Artworks