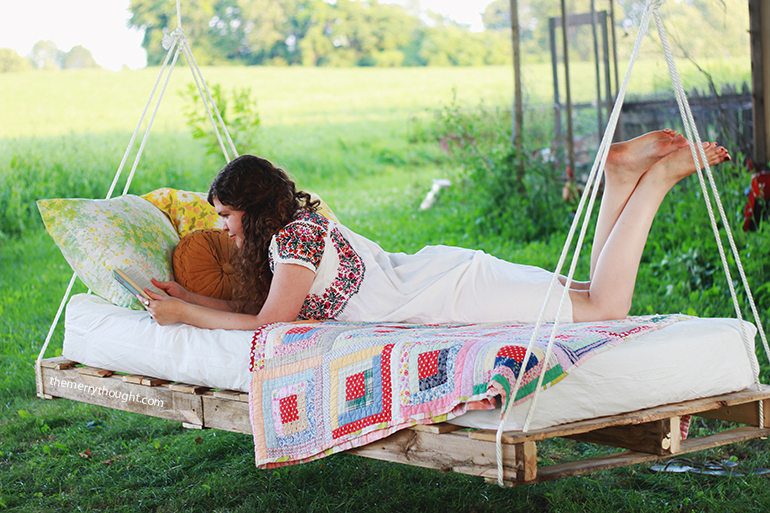 Will the wonders of pallets never cease?! These pallet swings are incredible! Summer may be winding down, but we're always thinking of new ideas for our patio. There's also options for indoor pallet swings. We love all the different pallet furniture variations!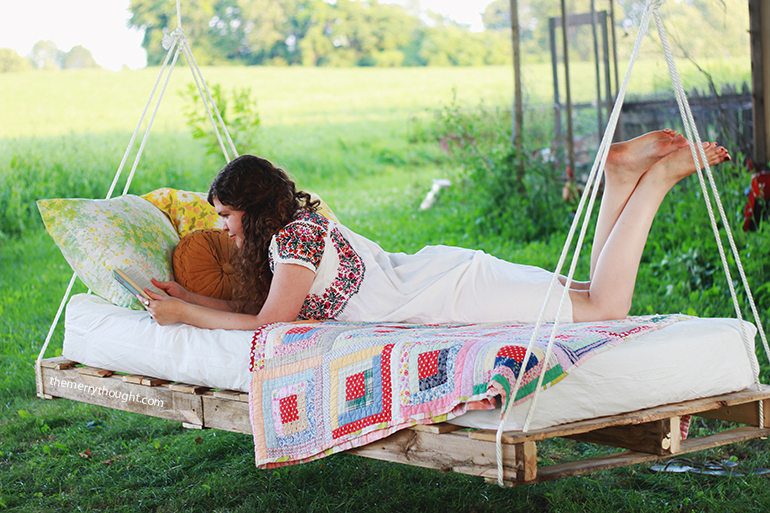 We started looking into pallet swings and we found some amazing ideas. We love this floating pallet swing with the extra pallet on top. This is great for hanging lanterns and also provides additional structure to the pallet swing.
If you're looking for an indoor option, we love these awesome pallet swing chairs! This would be great for a funky office or boardroom.
This indoor pallet bed is the ultimate. There's something so luxurious about an indoor pallet swing bed!
There's so many ways to make pallet swings. Here's a tutorial to make a pallet swing bed that fits a twin sized mattress.
Materials needed:
2-3 pallets
3 pieces of 2×4 lumber
Drill
Screws
Saw
Measuring Tape
Solid braid pro-grade rope with a high working load limit
Mattress and zippered mattress cover – this will keep your mattress dry and protected
Step 1: Measure the length of your mattress to determine how long your 2×4's should be. Cut your 2×4's accordingly.
Step 2: Slide the 2×4's through the middle of the pallets and along the inside edges. Add additional pallet slats in the middle to bridge the gap.
Step 3: Secure the pallet to the 2×4's.
Step 4: Drill holes in the corners of the pallet for the rope to go through. Make sure to drill through both the top and bottom of the pallet.
Step 5: Thread the rope through the holes and around the bottom of the pallet and 2×4. Tie your rope securely and tie your rope to a strong tree.
Step back and admire your gorgeous new pallet swing!
Source: The Merrythought