Do you love the look of those gorgeous, vintage blue mason jars? So do we. It turns out it's pretty easy to create mason jar decorations with some upcycled glass jars. Spaghetti sauce, pickles, jam and honey are just some of things that come in awesome glass jars. Of course we can't bear to part with a good glass jar. Enter the need for lots of cool mason jar crafts. As if we needed an excuse to craft…
These mason jar decorations are super easy to make. You will need:
Clean jars, be sure to save your empty food jars!
Mod podge or white glue
Paint brush
Food colouring
Stir stick
An oven
Assemble all necessary materials to create your mason jar decorations. Then decide on your colour scheme. You can make make blue, turquoise or use browns and greens for that vintage bottle look.
Step 1 – In a small bowl, mix together your mod podge/glue, food colouring and water. You can experiment with ratios but to start try 1 tablespoon of glue, 3 drops of food colouring and half a tablespoon of water.
Step 2 – There are now 2 ways you could proceed. The first method is brushing the mixture onto the outside of your mason jar from top to bottom. Allow your coat to dry before repainting. This should take a few minutes.
Alternatively you could pour the mixture inside the jar, put the lid on and shake it until the inside is completely covered. Take your lid off and allow the extra paint to drip onto wax paper or newspaper.
Step 3 – After your bottles are no longer dripping, you can place them in a warm oven (225˚) right side up and allow them to bake dry for 20 minutes. Alternatively skip the oven and turn them right side up to air dry. This will take several hours.
If you used the outside painting method then your mason jar decorations can be used as vases. If you did the inside painting method then water will wash off your stain. These completed jars can be used for dried foliage instead. They look gorgeous!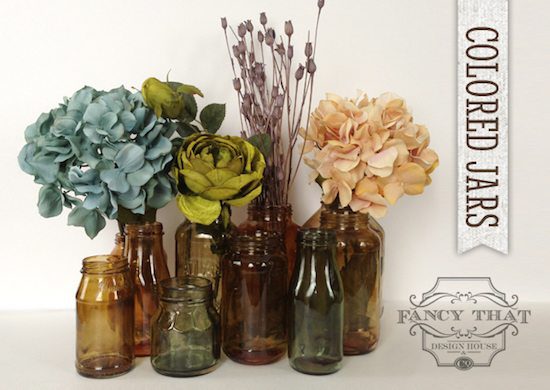 Sources:
1) Blue/turquoise mason jar decorations from Craftberry Bush
2) Green/brown mason jar decorations from Fancy that Design House