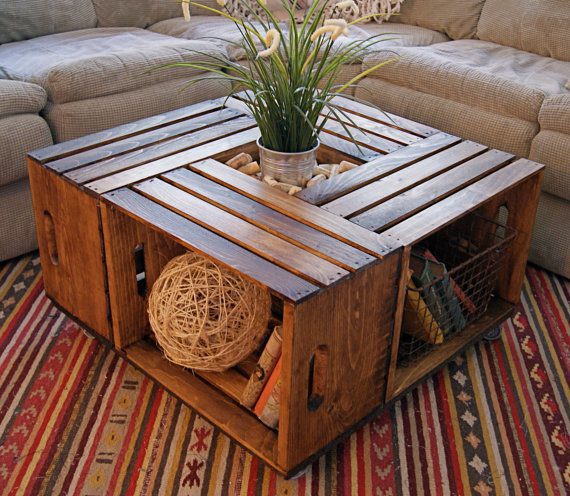 This crate coffee table is that winning combination of gorgeous and functional. We love the beautiful wood and ample storage space. Even better is the fact that this baby is on casters for easy maneuvering!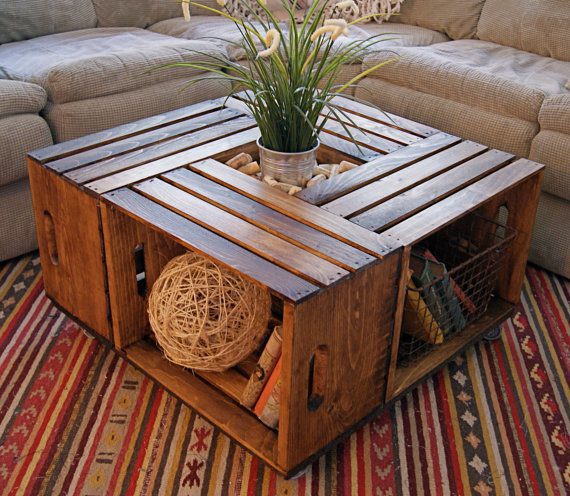 While we sure do love us some pallet coffee tables, perhaps your living room calls for something a bit smaller? This wine crate coffee table is just the thing to sort you out. It even has a groovy space in the middle for floral arrangements. The more functional user can stash TV remotes here instead and marvel at the ease of use.
To make:
Stain your crates and allow them to dry.
Build a frame for the base that you will secure the crates onto. Use two 1x2x6 boards and make a plus sign. Secure with two L shaped brackets as a border around the plus sign.
Arrange your crates on the base with the crate opening facing outwards. Nail the crate to the wooden frame.
Finish the hole in the middle with wood to fit.
Screw the caster wheels onto place on the bottom of your new crate coffee table.
Enjoy with good company.
*Amendement* 
Some users have expressed confusion at the construction of the base. We've now found a simpler alternative courtesy of Handimania.
Use a flat piece of plywood for the base the crates are adhered to. Secure the crates to the top of the plywood and the caster wheels to the bottom.
Sources:
To buy – The Article on Etsy
To make – Recycle Reuse Renew Mother Earth Projects 
To make – Handimania