Why burlap pumpkins? Because October means pumpkin season. It's the run up to Halloween and officially fall. This year we wanted to include pumpkins in our upcycled Halloween decor. We were super excited to think of burlap as the upcycled material to use!
We love making our own upcycled decor for Halloween. These burlap pumpkins are super easy to make and use readily available materials.
Our burlap pumpkins were once coffee bean bags. We're sure that if you ask nicely at your local roaster they'll give you some for free. Here are the materials you'll need for this upcycle:
Burlap (used coffee bags)
Plastic shopping bags
Jute string
Scissors
How to make burlap pumpkins
Step 1 – Stuff a used plastic shopping bag full of other shopping bags. This is a great opportunity to make use of those plastic shopping bags you've been saving!
Step 2 – Tie the shopping bag closed with a piece of jute.
Step 3 – Cut your burlap bag into a square or oblong shape. Then gather the corners of the burlap at the top of your plastic bag.
Step 4 – Tie a piece of jute to secure the burlap around the plastic bag.
Step 5 – In order to get the pumpkin shape, wrap the burlap with jute as if you were wrapping a present. Be sure to pull tightly on the jute to create grooves in the burlap.
Step 6 – Wrap the pumpkin stem with jute. As you get closer to the end, bend the burlap to create a bent stem.
Repeat the steps for as many burlap pumpkins as you'd like to make. Remember that all pumpkins will look unique. For a shorter stem, trim the ends of your burlap after step #4.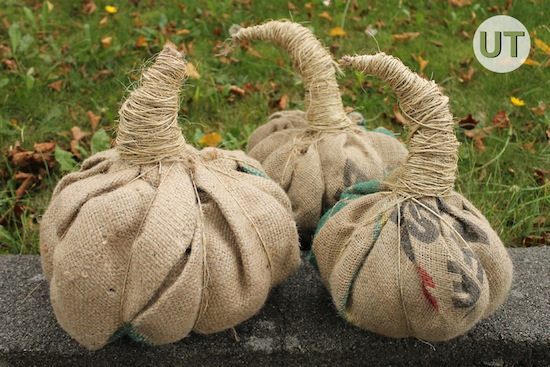 Happy pumpkin season and happy Halloween!