This bicycle wheel clock might just be the best upcycled clock we've ever seen. It's made with a bicycle wheel and vintage yardstick hands. We really love the chalked roman numeral numbers and the way it integrates with a chalkboard wall. Read on to find out how to make one for yourself.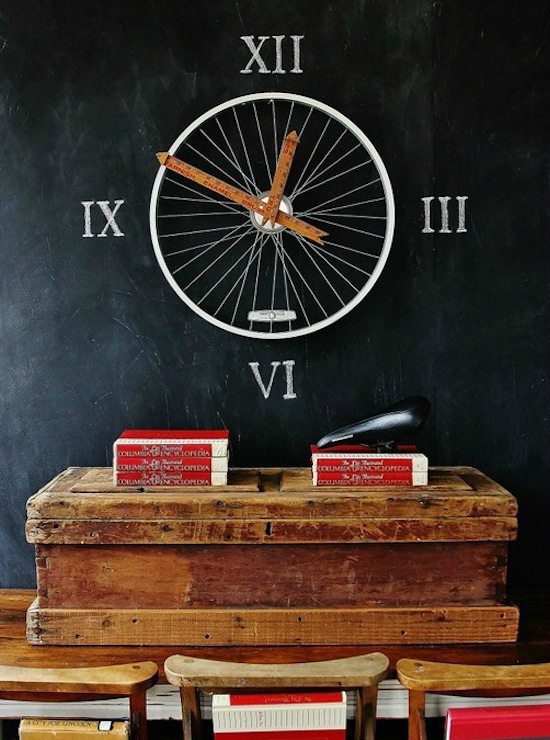 How to make a bicycle wheel clock
To make your own bicycle wheel clock first assemble all necessary supplies and tools. You will need a bicycle wheel, a clock kit designed for big hands, a paint can lid, a yardstick and a drill.
Step 1: With tape or wire, attach your clock kit to the centre of the bicycle wheel.
Step 2: Drill a hole in the centre of your paint can lid. Place this over the centre mechanism of the clock kit.
Step 3: Cut out clock hands from your yardstick. This should be done according to the size of the bicycle wheel you are using. The hands used here are 16″ for the long hand and 8″ for the short hand. Cut small triangles for the pointed arrow tips and glue them on to the ends of your clock hands.
Step 4: Drill holes in the yardstick hands. Drill 5 1/2″ from the end of your long hand and 1″ from the end of your short hand. The clock hands provided in your clock kit will have circles on the ends. Cut these out and hot glue them around the drilled holes on your yardstick hands.
Step 5: Attach the yardstick hands to the centre of the bicycle kit spoke. It's important to make sure there is enough space left between the 2 hands. This will allow them to turn evenly without disrupting one another. In your clock kit there will be a washer to be placed above the clock hands at the very top of the clock kit spoke. Tighten it to secure your clock hands in place.
Step 6: Now you'll want to balance the weight of your clock hands so that they are correctly positioned on the centre clock kit spoke. Glue washers to the back of the long hand to do so.
Step 7: Your bicycle wheel clock is almost ready to rock. Hang it up on a chalkboard wall and chalk on your roman numerals. To get the right time, adjust the clock hands using the small dial on the clock kit. Stand back and admire your handiwork, you now have a gorgeous upcycled bicycle wheel clock!
Source: East Coast Creative