It's time to get festive! Maybe this year you're thinking about having an alternative Christmas tree? Want to see the best ideas? You're in the right place. We've rounded up the top 16 alternative Christmas tree ideas.
Beer Bottle Tree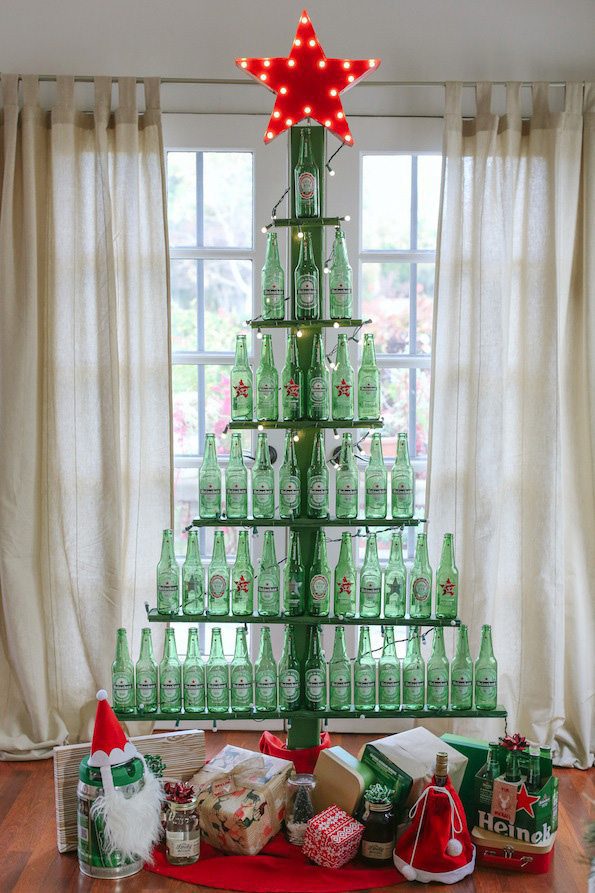 This beer bottle tree is genius! This alternative Christmas tree is perfect if you love drinking beers that come in green bottles. Just make a frame for your tree and load it up.
Source: Evite
Ornament tree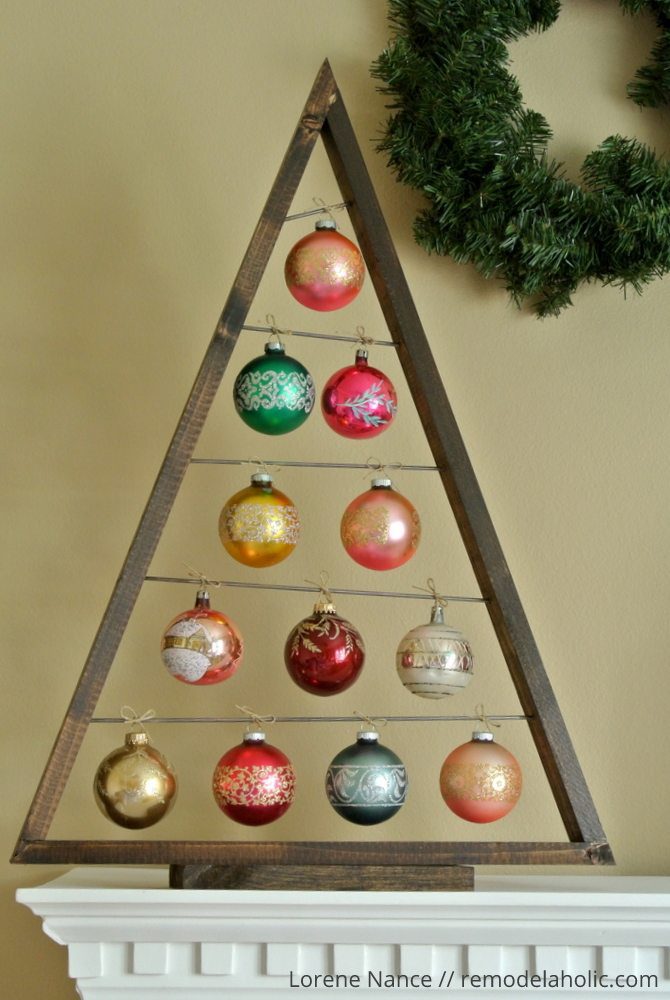 This ornament tree is great for a small space or as a mantle display. It's easy to recreate this alternative Christmas tree using reclaimed wood.
Source: Remodelaholic
Evergreen Branch Tree
We made this alternative Christmas tree with boughs of evergreen, and fishing tackle. Check out the tutorial for our star here.
Reclaimed Wood Tree
We love this reclaimed wood tree for the front porch. First make a post and base. Then cut the sides of your reclaimed wood into angles and drill them on. So gorgeous and rustic!
Source: Funky Junk
Tree Shelf
This tree shelf is awesome if you don't have a lot of floor space. We love this alternative Christmas tree idea. The design is so functional. The presents are built right in!
Source: Jaime Costiglio
Ladder Christmas Tree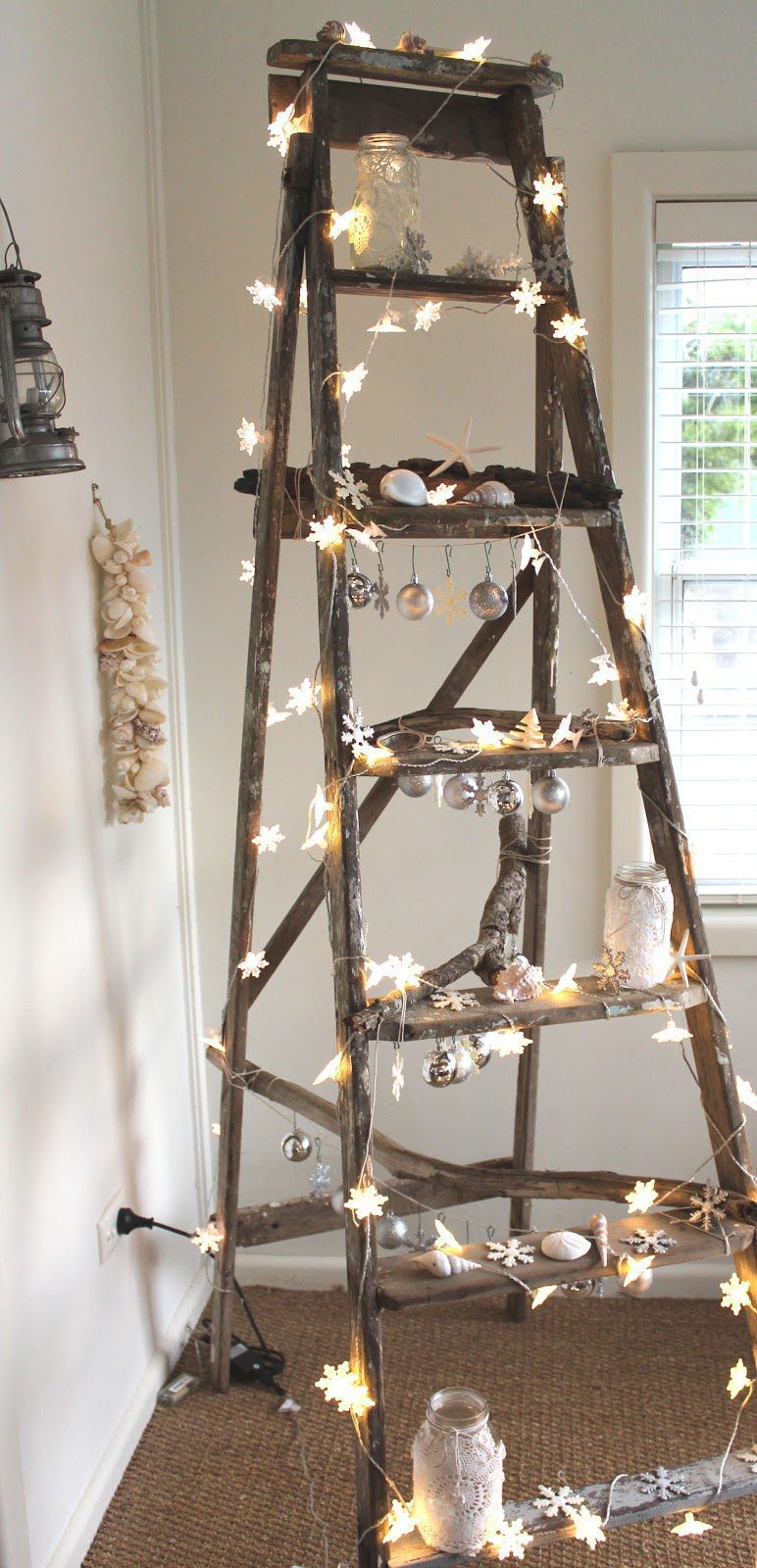 Go a step above with this ladder Christmas tree. All you need to do is open up a ladder and decorate it! This is also a great alternative Christmas tree for those in warmer climates.
Source: Desire Empire
Book Christmas Tree
This book tree proves that you can use almost anything to make an alternative Christmas tree.
Source: Shelterness
Here's another book tree using open books. Keep your eyes out for green books and allow yourself to get creative.
Source: Media Tinker
PVC Pipe Tree
This alternative Christmas tree works so well with colourful ornaments. They just pop against the white pvc!
Source: Martha Stewart
Reclaimed Wood – Herringbone Pattern
Reclaimed wood trees just make so much sense! We love this one arranged in a herringbone pattern. The holes for the lights are perfection.
Source: Grindstone Design
DemiJohn Tree
This is a great alternative Christmas tree idea if you love that fresh evergreen smell. Make your own tree by putting branches in a demijohn.
Source: Enjoy Your Home
Pallet Christmas Tree
This pallet Christmas tree is so simple, you leave the pallet as it is and string up lights in the shape of a tree. We think it's brilliant!
Source: Redhead Can Decorate
Book Page Christmas Tree
This book page Christmas Tree is gorgeous! This is a good reuse for an outdated book that was otherwise heading to the landfill.
Source currently unknown – please let us know if you know the original source
Hanging Branch Christmas Tree
This branch Christmas tree is so easy to make. Just gather some branches and string them up on the wall. Hot glue on your decorations and voila!
Source: Pom Le Bon Homme
Merry Mirror
Merry Mirror is a brilliant alternative Christmas tree by artist Michael Johansson. He has assembled green, utilitarian items in the shape of a tree and used a mirror reflection to make it tree-shaped.
Source: Michael Johansson
Branch Christmas Tree
This Christmas tree made out of branches is totally next level! Arrange your branches artfully and drill them together.
Source: Kara Rosenlund
Which Alternative Christmas Tree is Your Favourite?