These custom-stamped vintage spoons are such a lovely reuse of vintage cutlery! Jade Holli is an avid gardener, upcycler and vintage collector from Melbourne, Australia. We love her whimsical garden markers made from vintage cutlery! Read on to find out more about her process and inspiration.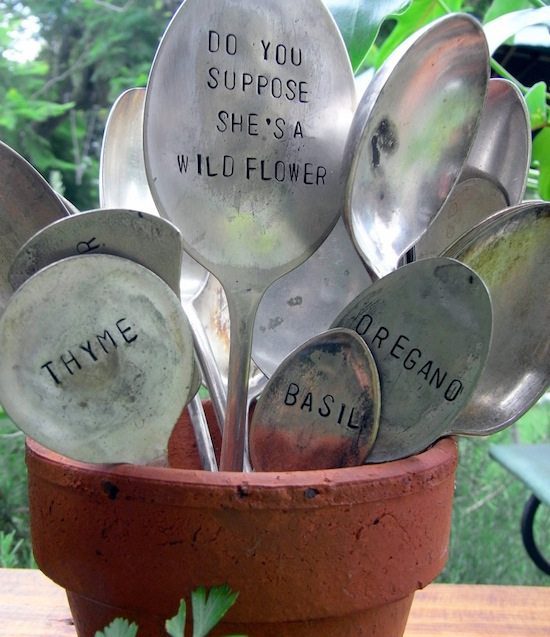 Jade Holli loves to re-create pieces of discarded silverware into little objects of lovely. She says she was born a 'maker' and is always busy creating something. The first vintage spoon stamp was inspired by the quote 'Do You Suppose She's A Wildflower' from Alice in Wonderland. Jade loves the quote and wanted to see it everyday to remind herself to live a 'wild & free' life. She had seen spoon stamping before and thought the quote would look great on a spoon. So she flattened one of her grandmother's spoons and bought some steel alphabet punches.
After the first spoon, phrases and gardening quotes seemed to pop up everywhere, so more spoons were flattened, more words were stamped and a passion for creating vintage cutlery garden markers was formed.
Jade now has an online shop called The Spoon Flower from where she sells her beautiful stamped vintage cutlery. She loves working with vintage cutlery as everyday is different. In order to make her garden markers she must first hunt for the vintage cutlery, which is not always easy to find. Jade says that the old silver-plated cutlery works best. She scours thrift shops near and far and friends and family are always keeping their eyes out for her.
In order to create the spoon's flattened face, Jade hammers the vintage cutlery on an old tree stump using a three-pound mash hammer and a steel block.
The quirky sayings are then hand-punched into the spoon face one letter at a time. The vintage cutlery is then polished and stained with ink so that the lettering contrasts nicely.
Jade loves the stories that the vintage cutlery tell. You can see how much one teaspoon has been loved by the special engravings on a handle. They all hold a little piece of history. She also loves that her business is sustainable.
The idea of creating something new and usable from something old and discarded really appeals to me.
This fits in well with her family's lifestyle of permaculture, reuse and upcycling. At home Jade's family grow as many veggies as possible and scraps are composted or given to their chickens. Apart from upcycling old vintage cutlery, The Spoon Flower packaging is completely compostable and the new Seed Paper range of gift cards are plantable!
We applaud Jade's efforts and simply adore her gorgeous repurposed vintage cutlery!
Source: The Spoon Flower