We love making upcycled Easter decorations! Easter is about the renewal of life and the hope that comes with the springtime. It's the perfect time for upcycling! That's why we like to embrace what the holiday is all about and repurpose old items into Easter eggs, sheep, bunnies, and other holiday-themed decorations!
No matter whether you live in a condo with sea view or a small village house, you definitely have the resources needed to garnish your home with eco-friendly Easter decorations. And if you have some time on your hands, this is the perfect opportunity to get creative and upcycle unwanted items into beautiful and festive decor.
1. Scrap Fabric Bunny Art
This is a super fun decor idea that you can make with a piece of scrap wood and some extra fabric. It's got a really chic, farmhouse feel to it! To make it, use a bunny template to outline the bunny shape onto the wooden board. Then cut your scrap fabric into 1-2 inch thick strips and braid them. Hot glue the braided fabric onto the board around the outline of the bunny. Then fill in the outline with some braided scrap fabric.
Source: Twelve on Main
2. Upcycled Easter Jar Displays
If you are into minimalistic decor, this is the option for you!
Gather some jars or glassware from around your home. We're sure you have some to use; if not, you can find some inexpensive, secondhand options from your local thrift store. Fill the jars with crinkle paper and some dip-dyed eggs. You can even use chocolate eggs and bunnies for an edible display/gift! See more upcycled Easter jars here.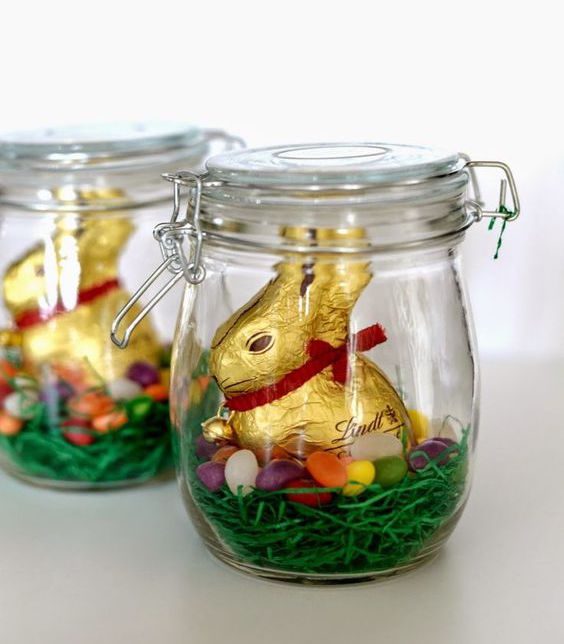 3. Spring Flowers in Upcycled Easter Vases
Daffodils, camellias, and tulips are among the flowers that symbolize the Easter holiday. And if you are a fan of the floral-themed decorations, you can make some yourself! There are numerous ways to make upcycled flower displays. We love upcycling unexpected things into beautiful vases. You can use gumboots or old watering cans! 
Source: Better Home & Gardens
4. Newspaper Easter Eggs
Newspaper eggs are a great Easter craft to do with the kids. Use either hollowed-out eggs, or craft eggs, and decoupage them with newspaper and mod podge. We love the idea to make little nests on upcycled jars! You can reuse pasta jars and spray them with your favorite colors. Just make sure that you are prepared for it, as spray paint can get messy, and your carpet or laminate flooring may be a little difficult to clean. We recommend laying down some newspaper or spraying the paint outdoors. 
Source: Making Manzanita
5. Naturally Dyed Eggs
Dyeing eggs is probably the most popular Easter activity. But if you are against artificial chemicals, you can always try natural dyeing. For this project, you will obviously need some empty eggshells, but it gets interesting with the rest of the materials.
The best dyeing results come from red onion skins, turmeric powder, beets, hibiscus, or even purple cabbage. Dry eggshells take on the color easily, so for example, one tablespoon of turmeric and two tablespoons of vinegar mixed in one or two cups of water will give you an intense turmeric-yellow color, a cup of grated beet juice will produce a bright pink color, and half a cup of onion skins will create a warm red-orange hue.
We adore this idea to hang the eggs as part of a gorgeous table centerpiece!
Source: Dans le Lakehouse
6. Lightbulb Carrots
What dies at Christmas and gets reborn at Easter? Lightbulb carrots! Save your broken Christmas lightbulbs and turn them into the sweetest carrot decor! You can also turn regular C/F series lightbulb into carrots. First, paint the bulb with orange or paint and allow to dry. Then take some moss or foliage and hot glue it onto the lightbulb. Then wrap some twine around the lightbulb thread and make a loop. Now you can hang them anywhere!
Source: TheTowpathTotsShop on Etsy
7. Brown Paper Upcycled Easter Basket
Easter means baskets and eggs, so why not make the basket yourself? If you have brown paper bags, you can make an Easter basket in no time! Deconstruct the brown paper bags and cut them into 4-inch strips. Grab any cardboard box that you have on hand and basket-weave the paper strips around it. Use strategic dots of glue to secure.  
Finally, you can use some of the other Easter decorations that you've made to decorate the basket. Pick a few Easter eggs, a small bunny, or some flowers and arrange them nicely. And if you want to really upcycle the basket, you can use it after Easter to store some small items in the kitchen or bathroom.
Source: Lia Griffith
Upcycled Easter Decor Summary
As you can see, Easter is an excellent time for creativity and upcycling. All of these decorations are easy to make, they are reusable, and they are inexpensive. Just grab some old clothes, newspapers, and last week's vegetable peels, and you'll have your house ready for Easter in no time!