It seems this year everyone is getting into upcycled Christmas presents. From candy wrapper handbags to record bowls, there is an awesome upcycled gift for everyone on your list. Therefore the logical next step is upcycled gift wrap. Here are our top 5 upcycled gift wrap ideas that are beautiful and creative and yet won't break the bank.
1. Cereal box gift tags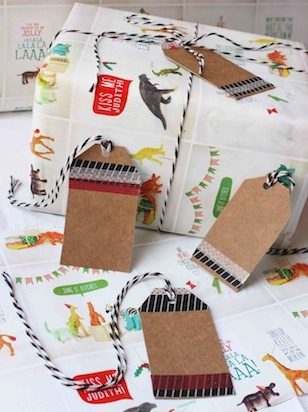 These gift tags are easy and fun. All you need to do is cut open a cereal box and glue some scrap wrapping paper onto the branded side. Then cut the box into tags. Snip your corners to make the tags more appealing and knock yourself out decorating the label. We used decorative washi tape and stickers. You could also use stamps and markers. Then punch a hole and add some string or ribbon.
Source: Upcycle That, previously posted here
2. Paper roll gift card holder
These upcycled paper roll gift holders are perfect for when you want to give a gift card. They are simple to make. Cut a paper roll down to size and then glue your reused gift wrap to the outside. Glue one side closed and insert the gift card. Punch a hole in the top and insert your ribbon.
Source: Nellie Bellie
3. DIY gift bags
We love that these DIY gift bags can be made using any paper and the method is super simple. To make take your paper of choice and loosely wrap it around a box. Glue the paper edges together and use tape to secure the bottom. Cut a piece of cardboard slightly smaller then the bottom for the base of the base. Pinch the edges to make a folded crease. Punch 2 holes on each side of the top of the bag and add some string for the handles.
Source: Eclectically Vintage
4. Paint chip gift tags
These gift tags are super sweet and effective. The best part is how easy they are to make. Print a picture of an ornament, tree or any other holiday shape onto thick cardstock. Cut the shapes out and trace with a pencil on a paint chip. Cut out the paint chip and erase your pencil marks. Punch a hole for a ribbon and add it for the finishing touch.
Source: Create Craft Love
5. Button Cards
These button cards couldn't be easier. Simply fold a nice piece of paper in half and draw a shape onto the front. You could do Christmas wreaths, snowflakes or any other design that tickles your fancy. If you're doing a wreath trace around a lid to get a perfect circle. Then just glue the buttons on using a hot glue gun and if you'd like to, adorn with a ribbon.
Source: My Favourite Things