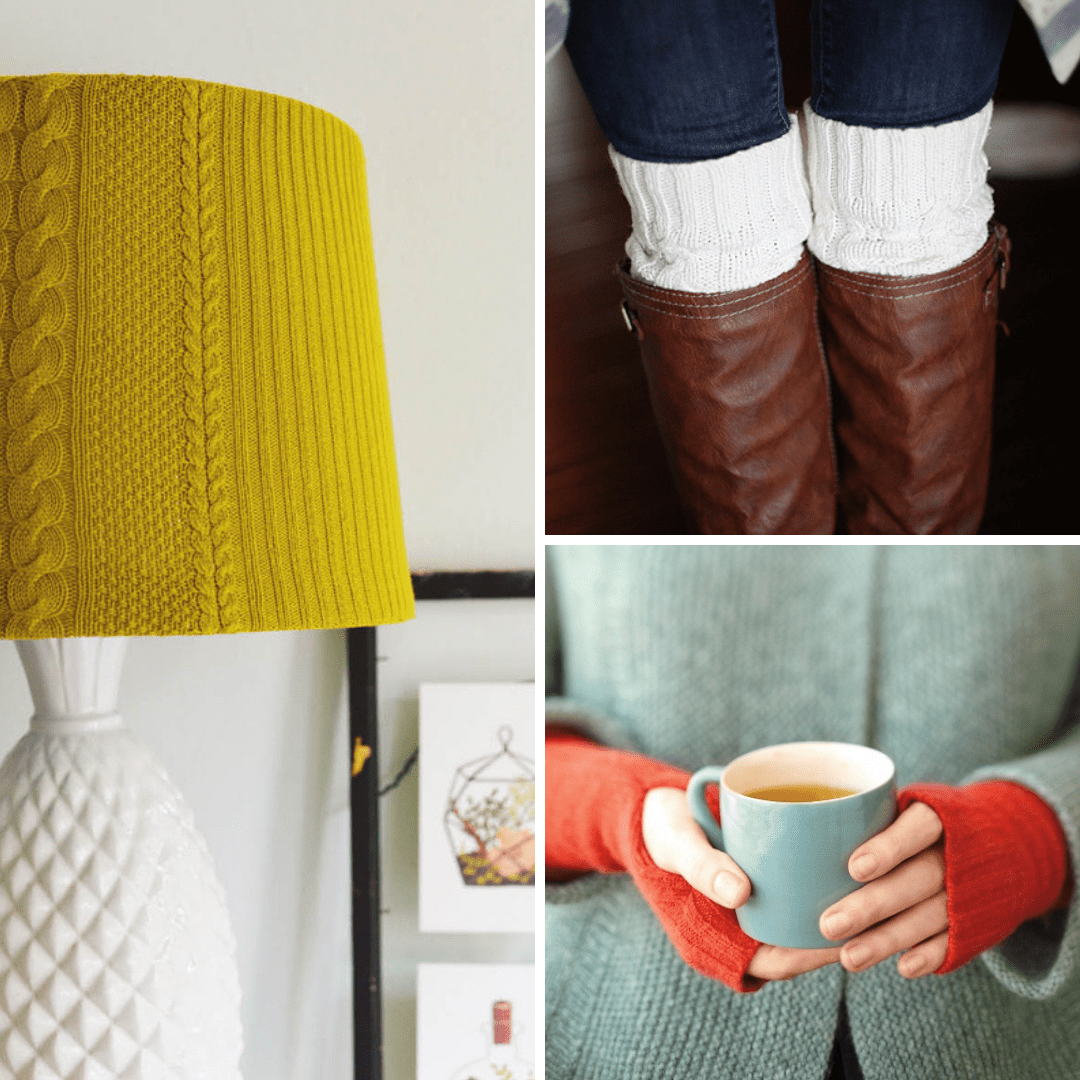 Sweater weather is officially here! It's time to bundle up and get cozy for fall. Sweater weather isn't just for clothing. We've rounded up our top ideas for how to upcycle sweaters. Sweaters can be repurposed into warm accessories, home decor items and gifts for your friends and family. You'll be amazed at all the ways you can reuse old sweaters!

Sweater Weather – Upcycle a Sweater into Accessories
Sweater Scarf

We love this look. Find two complementary sweaters to make this gorgeous infinity scarf.
Source: HGTV
Sweater Mittens

Have you accidentally shrunken a sweater that you love? No problem, turn it into some lovely mittens. Good news, these upcycled sweater mittens are easy to make without a sewing machine.
Source: Martha Stewart
Sweater Beanie

Did you make an infinity scarf and now you're wondering what to do with the sweater sleeves? This sweater beanie is a great way to reuse the sleeves of a sweater. the knit ribbing works really well for the bottom of the beanie. Make two and gift one to a friend.
Source: Cotton and Curls
Sweater Arm Warmers/Fingerless Gloves

Sweater sleeves are perfect for sweater arm warmers or fingerless gloves.
Source: Whole Living
Sweater Weather – Upcycle a Sweater for Home Decor
Sweater Pumpkins

These sweater pumpkins are a great home decor touch. It's no accident that sweater weather coincides with pumpkin season!
Source: Confessions of a Serial DIYer
Here are even more ways to make upcycled pumpkins!
Sweater Cushions

Sweater cushions will bring that warm and cozy feeling into your home for fall and winter.
Source: Tidbits
Sweater Blanket

This sweater blanket is gorgeous! As a matter of fact, we'd love to cozy up to this during the winter. Have a lot of sweaters you want to upcycle? This sweater blanket takes about 10 sweaters to make. Sweater weather for the win.
Source: Yellow Suitcase Studios
Sweater Stool

We love our HBC-inspired sweater stool! Check out the tutorial here.
Sweater Lampshade

The cool thing about this sweater lampshade cover is that you can slip it on or off your lampshade depending on your mood.
Source: Farm Fresh Therapy
Sweater Weather – Upcycle Sweaters for Cozy Feet
Slipper Boots

It's imperative to keep your feet warm during sweater weather. These sweater slipper boots are the ticket. The best part? You don't even need a sewing machine to make em! Use the sweater sleeves for the legs and trace your feet to cut the bottom pieces. Stitch them together using a blanket stitch with yarn. Make these sweater booties for yourself or as gifts.
Source: Home Sweet Soul
Sweater Slippers

Follow this handy tutorial to make these lovely sweater slippers!
Source: We Can Redo It
Boot Socks

We love the way boot socks pull together a look. It's super easy to DIY your own boot socks with some upcycled sweater sleeves.
Sweater Weather – Upcycled Sweater Gift Ideas
Wine Bottle Gift Wrap

This DIY wine bottle gift wrap is a great way to jazz up a present. It makes for a very impressive gift.
Source: Grey Likes Weddings
Sweater Heart Hand Warmers

Make some sweet hand warmers as presents! Cut your old sweater into hearts, make a rice insert packet and sew them closed.
Source: Swoodson Says
Sweater Weather – Upcycled Sweaters for the Whole Family
Sock Monkey Baby

This sock monkey baby costume is one of the sweetest upcycles we have ever seen! Be sure to let us know if you make this one.
Source: Gros Grain Fab
Fox Slippers

Wouldn't you agree that these fox slippers are so gosh darn cute?! If you see an orange sweater at the thrift shop be sure to snap it up!
Source: Swoodson Says
Dog Jacket 

Turn your old sweater into a jacket for your pup!
Source: Instructables
Sweater Pet Bed

We love that this project doesn't require a sewing machine. Now the whole family can enjoy sweater weather together!
Source: Handimania
Which Sweater Weather Upcycle Is Your Favorite?