We love upcycles for kids and this suitcase dollhouse is one of the cutest. What could be sweeter than making and decorating a suitcase dollhouse with your little one? Read on to find out how.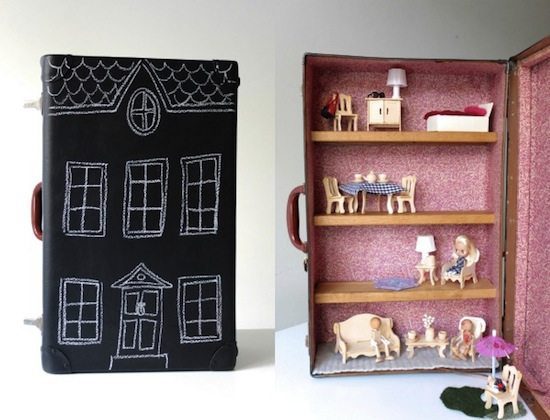 Materials needed:
To make this upcycled suitcase dollhouse you will need: a hardshell suitcase, 2 -3 pieces of wood for shelves or levels in your dollhouse, chalkboard paint, chalk, a paintbrush, screws and a screwdriver, decorative paper and dollhouse furniture.
1. To begin give your suitcase a very thorough clean out. We recommend vacuuming out the inside and wiping down the exterior.
2. Next you'll want to make wooden shelves or levels for the inside of your suitcase dollhouse. To do so measure the width and depth of the inside of your suitcase. Then cut wooden planks accordingly. You can decide if you want 2 or 3 planks depending on the height of the dolls going inside. Screw the shelves in from the outside of the case.
3. Now give the outside of your suitcase 2 coats of chalkboard paint. Depending on how old your little one is you may or may not wish to involve them with this.
4. Now it's time to decorate the inside of your suitcase dollhouse. You can add felt to the floors or leave them as hardwood. Add art to the walls and get creative with your dollhouse furniture. We especially love the ketchup lampshades shown here!
5. It's playtime. We're sure your little helper will love drawing on the facade of the house with chalk. They can get creative and design their own home! The best part is they can wipe it off and start all over again whenever they want to remodel.
Your child can now play with their suitcase dollhouse to their heart's content. When finished just close the suitcase up and pack it away. It's portable fun ready to travel!
Source: My Poppet