Today we're sharing our top pallet patio ideas – because patio season is officially upon us! There are lots of ways to upcycle your patio, especially with pallets. Check out how pallets become couches, coffee tables, planters, swings and more!
Pallet Patio Ideas – Pallet Daybed
This pallet daybed is the perfect way to relax on your patio. Bolt two pallets together and then add industrial piping for arms, caster wheels, a twin mattress and lots of cushions!
Source: Pretty Prudent
Pallet Patio Ideas – Pallet Sectional
Why make a pallet couch when you could make a pallet sectional? This low key fabulous upcycle is made with four, stacked pallets and piled high with pillows.
Source: villa.snowwhite on Instagram
Pallet Patio Ideas – Pallet Sectional with Daybed
This L shaped pallet sectional combines a pallet couch and a pallet daybed. It's the best of both worlds! You need quite a few pallets to make it so better start collecting!
Know your pallets: Pallets marked with an "HT" stamp have been heat-treated. Pallets marked with an "MB" have been treated with chemicals.
Source: Hunker
The only thing that would make this setup even nicer is a patio umbrella! This one has a lovely wood grain finish which would match the look of the upcycled patio. There are lots of colors to choose from, but we think black, white, or red are the most classic choices.
Source: Midtown Umbrellas
Pallet Coffee Table
We love this crisp white pallet coffee table. It was treated with an exterior finish and topped with some leftover cedar planking for a fresh summer look.
Source: Southern Revivals
Pallet Wall
A pallet wall is a great way to make a statement. We think a pallet feature wall would look incredible on a patio! Here's a tutorial on how to make one.
Source: Apartment Therapy
Pallet tub table
This pallet tub table is a coffee table that also keeps your drinks cold! The frame is made from upcycled pallet wood, the top from a trash bin, and the insides are two antique wash tubs found on Craigslist. This is such a creative and functional piece, we just HAD to feature it on our best pallet patio ideas!
Source: prodigal pieces
Pallet Swing Bed
We love swings! This pallet swing is perfect for reading. Bolt two pallets together, top with a twin mattress and hoist it up with rope.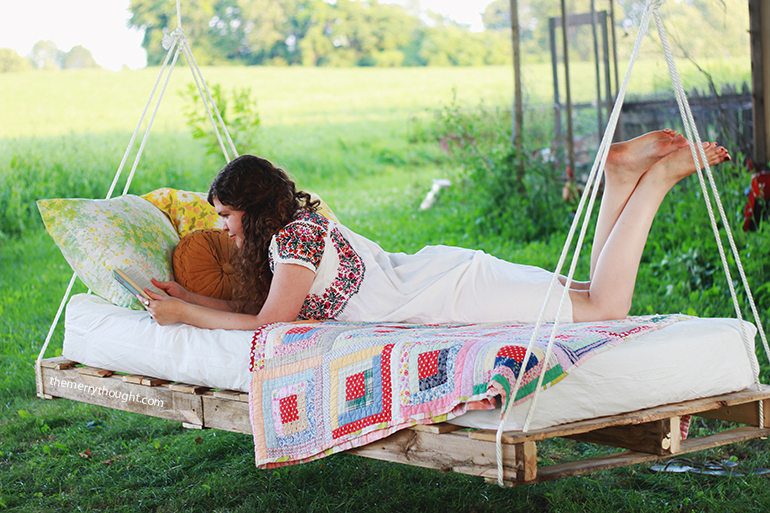 See the post: Pallet swing
Pallet Planter
This pallet planter was the first upcycle DIY we ever made! It's such a statement piece and makes a gorgeous addition to any garden or patio.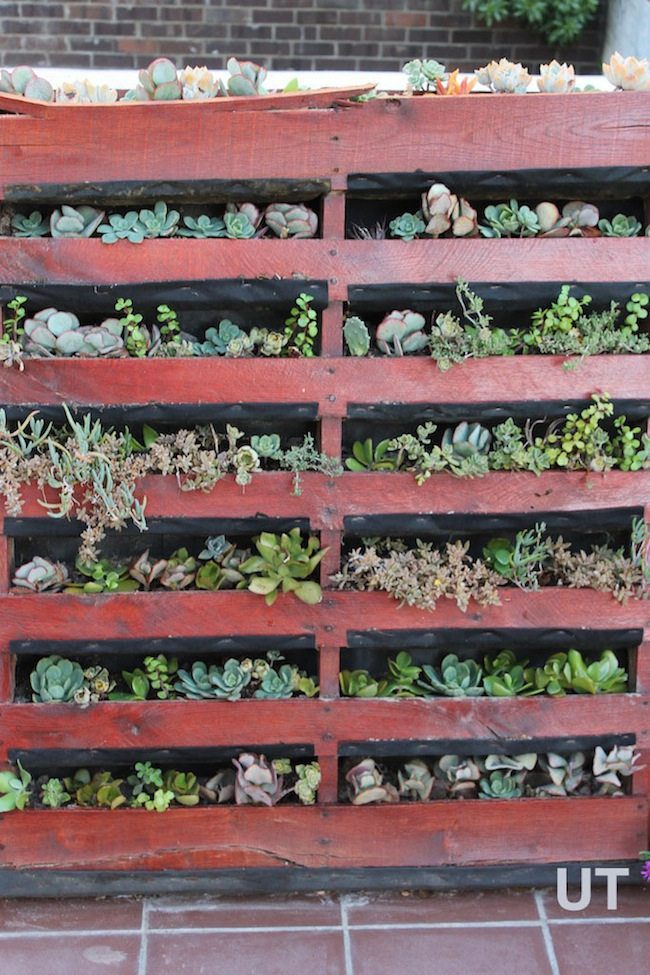 See the post: Vertical pallet planter
Mega Pallet Patio
This mega upcycle combines the best of all the pallet patio ideas. Make a pallet floor, wall, coffee table, and seating. It'll take you more than a weekend to make, but it's worth it!

Source: Pallet patio
We love pallets because they are so easy to custom for your desired look.
Which of these pallet patio ideas is your favorite?