Happy Earth Day Upcyclers! Today we are going to rock out a pallet coffee table. We love pallet furniture and this upcycled coffee table is super easy to make. We think the hairpin legs give it an awesome modern look! Read on to find out how to make your own pallet coffee table.
We knew that this pallet coffee table would be a great Earth Day post. It's simple and stylish. The hairpin legs really give it that awesome industrial vibe. We also love that it has room on the ends to store books/magazines/remotes.
To make your own pallet coffee table you will need:
1 full pallet plus additional pallet slats
set of 4 hairpin legs (12 or 14 inch)
saw
hammer and nails
crow bar/back of your hammer
drill
clear varnish
paint brush
The first thing to do is get your pallet to the right dimensions for your coffee table. Leave it as is or saw it down to size. Next add in additional slats of pallet wood. All pallets are made a bit differently. You might have to remove the current slats to get an even spacing. We recommend using a crow bar for this.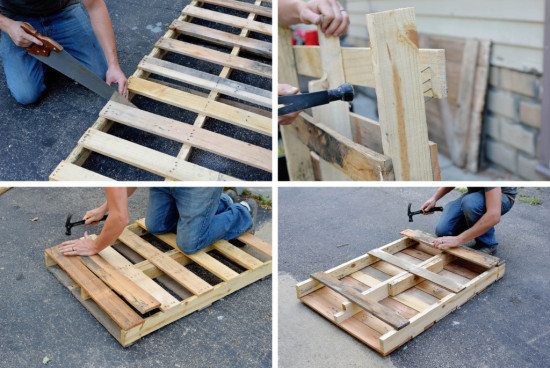 Now reinforce the bottom of the pallet with a few extra pallet slats. This will allow for enough room to attach the hairpin legs onto the bottom of the pallet.
Pre-drill holes to attach your hairpin legs. These should be screwed in place on the bottom of each corner of your pallet.
Finally you will want to sand and stain the pallet coffee table with a few coats of varnish. Apply your varnish evenly and in a well-ventilated area. Allow a few hours or overnight to dry.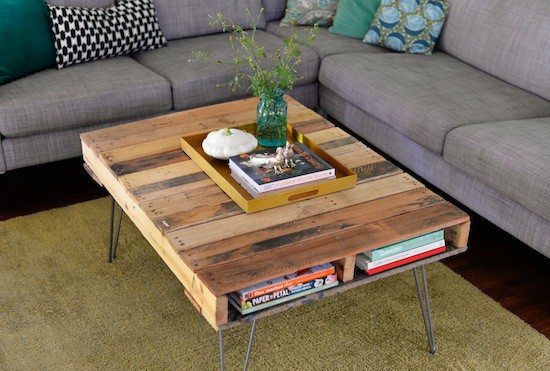 Once dry, add books and a centrepiece to your new pallet coffee table and proudly show it off!
Source: Homedit