A kitchen remodel isn't easy, and it requires lots of work. The more elements that require an update, the more expensive the whole project can end up being. Luckily, there are plenty of things you can DIY and upcycle, to make it affordable!
There are lots of ways to lower the costs of a kitchen remodel, and still achieve a beautiful and timeless look. Whether your goal is renovating and selling inherited property or you simply want to make your existing kitchen more comfortable, it doesn't have to break the bank. Read on to learn more!
Paint the Cabinets
If you want an easy way to make your kitchen look more premium, paint your wooden cabinets to change the whole kitchen's vibe! To make the space appear bigger and brighter, choose a classic white or slightly off-white color like a greige. 
To paint your kitchen cabinets, you'll first need to disassemble them and then find a place to lay them down for painting. You can do this outside or in a well-ventilated garage or even a spare room if you open the windows and lay down some sheets to protect the flooring.
First, you'll need to sand your cabinets using a hand sander. When you're finished, wipe off the dust with a damp cloth and let the wood dry well. Then, it's time to prime and paint. You should match your primer to the type of paint you want to use. For instance, if you're using water-based paint, then go with a water-based primer.
You can use a foam roller for larger areas, and a paintbrush for detail work for painting.  Apply one coat of primer and at least two coats of paint, letting each coat dry in between. After 24 hours, apply sealer, and once it's dry, you can put your cabinets back together and watch your kitchen transform in front of your eyes. If you're looking to get the best deals on your paint and tools, check out websites like Hey Discount.
We also love the idea of adding wood trim to your cabinets if they don't already have a frame. Look at the huge transformation the fresh paint and frame make! Can you believe these are the same cabinets?!
Before and after images: I Spy DIY
Repurpose a Hutch into Cabinets
If you want to change out your current kitchen cabinets, consider using a hutch! Simply separate the top from the bottom and mount to secure. We love this sage color! If you are keeping some of your cabinets, paint them the same color to make them look seamless.
Source: Cheryl Burgess on Pinterest
Add an Upcycled Kitchen Island
Rather than buy an expensive new island, why not upcycle something instead? Here's a brilliant redo using a cabinet!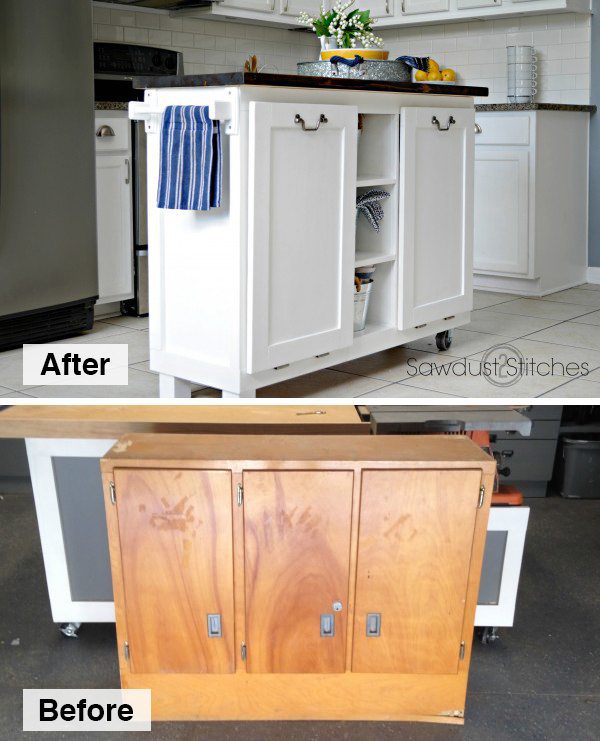 Source: Sawdust 2 Stitches on Upcycle That
Update the Floor with Vinyl Tile Flooring
If you want to update your kitchen floor, vinyl tiles are an inexpensive way to achieve a beautiful look. The best part is that you can install them yourself, meaning that you'll keep the costs low. You'll find plenty of styles and colors of peel and stick vinyl tiles to choose from online. The flooring is really easy to cut and install, making it an excellent choice for DIY enthusiasts.
To install the peel and stick tiles, you'll need to follow a few steps. First, prime the already existing floor with a primer that your tile manufacturer recommends. You can apply it with a roller. To test your layout, you can snap the tiles, so you have individual pieces and lay them down. 
Once you're happy with the layout, start peeling the protective sheet from the bottom of your tiles. Work slowly and peel from the corner. Set your tile on the primed floor, press it down with a fresh and dry roller, and voila! You've installed your first vinyl tile. Now you can continue setting the tiles until you've covered the whole floor. If you need to cut the tile, use a sharp precision knife or a pair of scissors. Once it's all done, the look you'll get will ensure you that it was worth the effort!
Source: Chris Loves Julia
Kitchen Remodel with Contact Paper
If your kitchen counters are looking worn, it may be time for an update. To make the space look new without spending a lot of money, use contact paper. It's a great way to cover up old and shabby-looking countertops! You can get contact paper in almost any color and pattern imaginable, so chances are you'll find something that will fit your needs and preferences perfectly. 
To begin, clean your countertops thoroughly. Take your roll of contact paper and start at the edge of your countertop, making sure that you're covering the edges and the overhang. Work slowly and peel off only as much paper as you need at the time. As you stick the paper to the counter, use something flat and stiff, such as a credit card, to make sure it sticks appropriately and there are no air bubbles left.
When you get to a more complicated area, for example, the sink, use a sharp paper knife to cut the paper. If you miss a small spot, don't worry – later, you can cover it up with a little bit of the paper, and it won't be noticeable. When you're done, you can use some caulk to make sure that the area around the sink is waterproofed.
Source: Postcards from the Ridge
Kitchen Remodel – Final Words
As you can see, there's no need to spend thousands of dollars on remodeling your kitchen. With a few tools, some affordable materials, and your creativity, you can achieve beautiful results and make the space look Instagram-worthy!