It's time to get creative with kitchen organization! A well organized kitchen can have such a positive influence on your daily life. There are lots of awesome, upcycled storage solutions for the kitchen. We've compiled a list of our top 10 favourite kitchen organization ideas. Get inspired to get organized!
Hanging Mason Jar Storage
These hanging mason jars are brilliant! They're a great way to utilize the space under your cabinets, and they look wicked cool. The concept here is fairly simple, attach the flat top of the mason jar to the base of your cabinet. Mason jar lids have two parts: the flat top and the rim. Place the flat top on a scrap piece of wood and make a small hole using a hammer and a nail. Then put the flat top back in the rim and drill the flat top lid to the underside of your kitchen cabinet. Twist on the bottom of the mason jar to attach it to hang.
Source: HGTV – Shannon Quimby
Hanging Fruit Basket
This hanging fruit basket is a great way to free up space on your countertops. It's so simple to recreate; find an old fry basket and add a vintage sign for a full-on charming effect. This fruit basket looks perfect in a kitchen corner. Hang multiple fry baskets vertically for additional storage.
Source: Knick of Time
Magazine Rack Storage
The key to kitchen organization is having a home for everything you regularly use. Pot lids and baking sheets can get so messy when left loose in drawers. Here are two great ideas for how to organize them using magazine racks. Who knew that magazine racks were so great for kitchen storage?!
Sources: Cookies Crafts and Chaos & Simple Bites
Crate Cabinets
When it comes to kitchen storage, open shelves are trendy and functional. We love the idea of using crates as cabinets. Simple and effective.
Source: Hannashantverk
Spice Rack Crate
A list of kitchen organization ideas would not be complete without a spice rack solution. This spice rack could not be easier. Vintage Coca-Cola crates already have the perfect compartments. Simply hang it up and add your spice jars.
Source: BROhaha
Bookshelf Pantry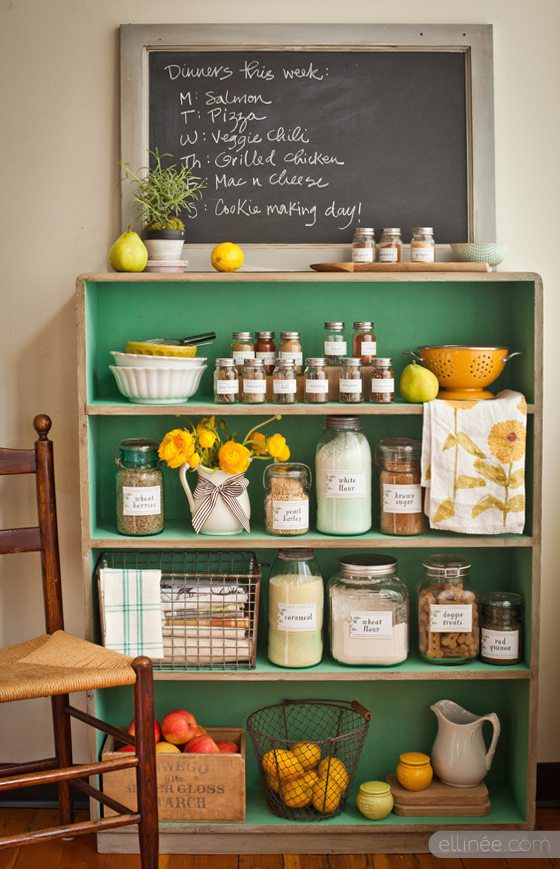 This bookshelf pantry has got it going on! We love the green paint on the inside and the amazing collection of glass jars! This is the perfect kitchen storage solution for those that need a pantry but don't have one.
Source: The Elli Blog
Vegetable & Fruit Stand
If you're looking for even more fruit and vegetable storage then check out this blanket rack upcycle! Metal wire baskets look great in the kitchen.
Source: Redo It Yourself Inspirations
Reclaimed Wood Hanging Rack
Hanging racks are ideal for pots and pans. This wall of reclaimed wooden staves is a functional and artistic take.
Source: I Love Palets
Jars for Storage
Mason Jars are perfect for kitchen storage. We love how you can see exactly what is inside. Cupcake liners can get lost and messed up in drawers. A mason jar is an efficient and beautiful storage solution!
Source: Table for Two
Magnetic Knife Rack
This magnetic knife rack is perfect for keeping knives handy but also out of the way. Make one for yourself with a piece of reclaimed wood and a forstner drill bit. This drill bit allows you to make circular holes on the back of the board without going all the way through. You can then glue in magnets to hold up your knives.
Source: eHow
Which of these kitchen organization ideas is your favourite?