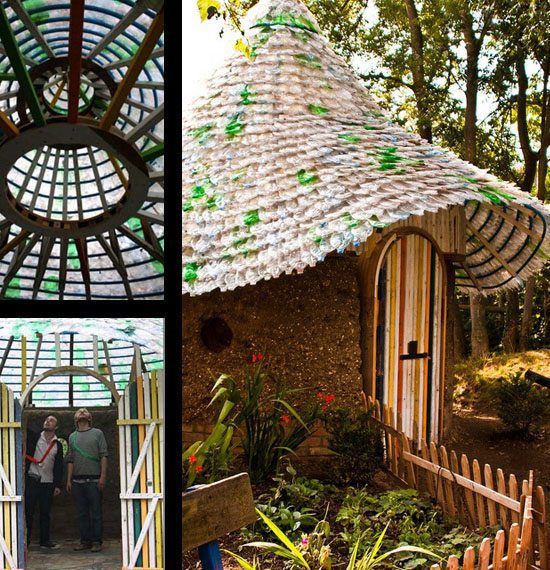 Have you ever dreamed of living in Snow White's cottage? How about an upcycled version of Snow White's cottage? Meet the fizzy bottle roof project. This whimsical cottage was a community project completed by the community of Merton Abbey in London.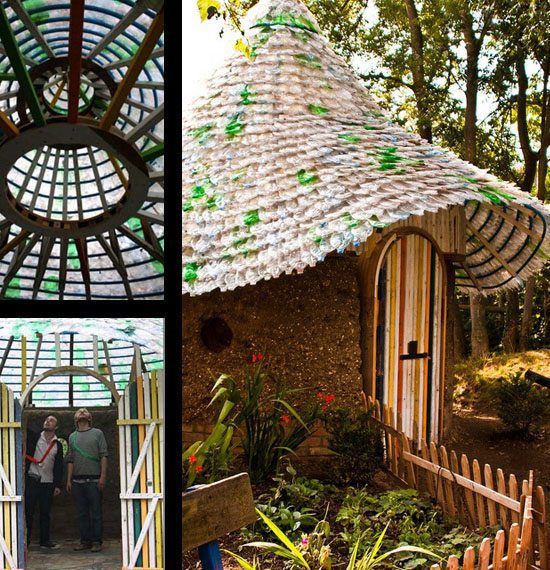 The fizzy bottle roof project took place at Deen City Farm. The roof is made entirely from upcycled materials including: 7000 plastic bottles, 60 for sale sign posts, 5 old building site hoarding sheets, 2 old scaffold planks and 350 metres of plastic water piping.
The project was orchestrated by William Waterhouse and Louisa Loakes. They wanted to involve the community in a project illustrating cob building techniques. Cob is an ancient building material made up of clay, sand, straw, water and earth. The base of fizzy bottle roof project was made of cob and the support timbers and door utilized used for sale realtor signs.
In the months leading up to the community building, the farm accepted plastic bottled brought in by locals. The community was so enthusiastic that a local storage company stepped in and offered to store some when it became too much for the farm to store alone.
On the day of assembly there was a multi-staged process to constructing the roof. Volunteers of all ages were encouraged to get involved. The bottles were washed, de-labelled and then lined up on the road to be stamped. A 2-ton road roller then flattened the bottles, creating the shingles. The shingles were then hole punched and screwed together. They were then affixed to the plastic water piping hoops used to make up the layers of the roof.
The fizzy bottle roof was a fun project involving the community and won recognition with a Guardian Green Building Award from The Guardian Sustainable Business Awards. We particularly like the for sale sign posts that were used for support timbers and the door. They add a lovely colourful touch to this cheerful community upcycling project.
Source: Deen City Farm