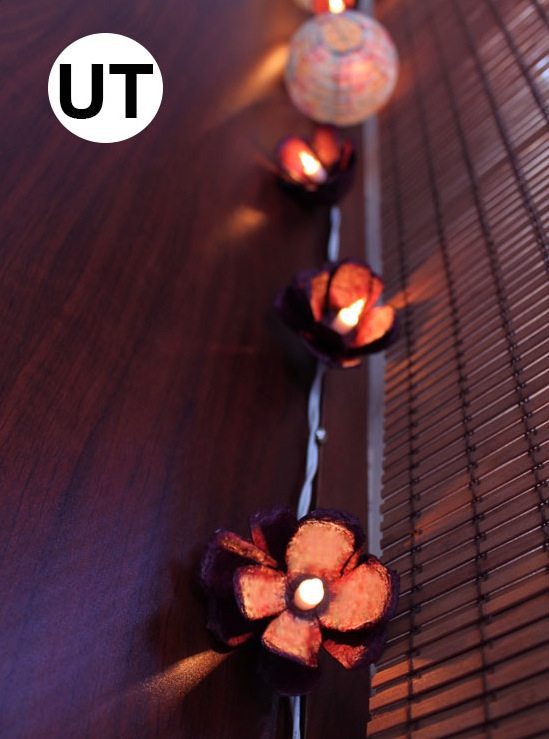 We are presenting these egg carton flower lights by popular request! Making them is a fun, easy process requiring not much more than a string of lights, a few egg cartons and some paint. While simple to make, these egg carton flowers can dramatically dress up a plain set of Christmas lights. Read on to find out how to make your own.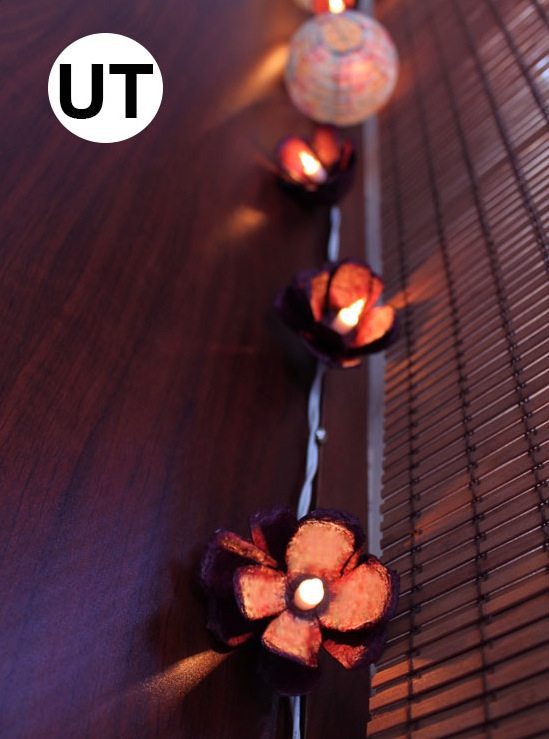 As you may know, we love posting inspirational upcycles on our Facebook page. We had posted an image of egg carton flower lights and in turn received numerous requests to create a tutorial. We love the look of these upcycled lights and were happy to figure out how they were made. It's really quite simple, you'll need:
Egg cartons – as many as you want flowers (each carton will create 2 full flowers)
Scissors
Paint/paintbrush
Screwdriver or pointy object
String of Christmas lights
The first step to making your egg carton flower lights is to separate the 2 parts of the egg carton. You will be working with the bottom half that has the pockets for the eggs. Next cut each pocket loose from the tray of 6.
Now cut the pockets into the shapes of flowers with four petals each. To create the pretty flower lights you will be layering 3 cut pockets on top of one another.
Keep cutting pockets until you have as many as you want for your flowers. Now paint the flower petals. You will need to paint one side, allow it to dry and then flip the flower over to paint the other side. You will likely have to touch up little patches of egg carton to get an overall polished effect.
Once the flower pockets are dry you'll want to cut out circles on the inside. This is so you can place your flower petals around the light bulbs. We found that a screwdriver was very effective for poking the initial hole. We then enlarged this by cutting with small nail scissors. Here's what the cut circles look like. Make sure your circles are large enough to fit over the bulbs on the string of lights you're using.
Then simply push the flower petals over the light bulbs, layering 3 per light bulb. Adjust the petals so they lay in an attractive fashion. We chose to intermix our egg carton flowers with the paper lanterns originally on our string of lights. The way you style yours is totally up to you. Step back when you're done and admire your new egg carton flower lights!