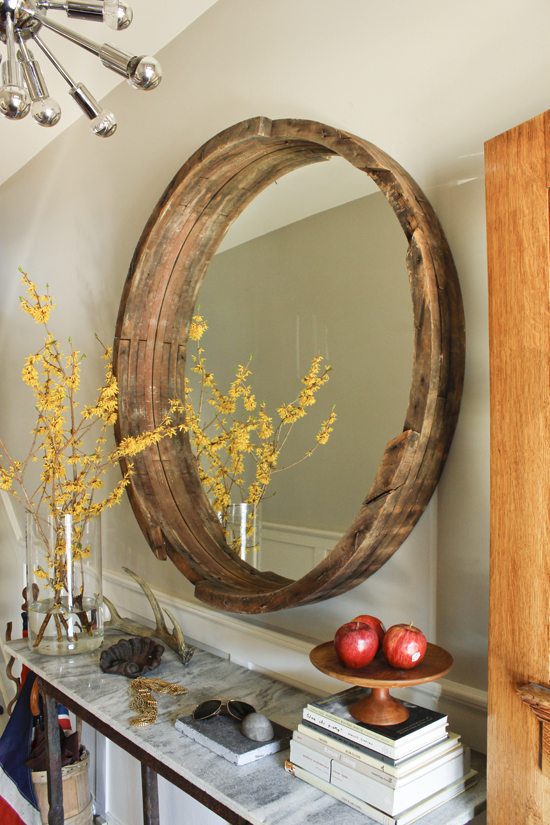 Aren't large circular mirrors gorgeous?! It turns out that it's quite easy to make a DIY mirror frame. We were so inspired by these stunning wall mirrors. Find out how to make one for your home.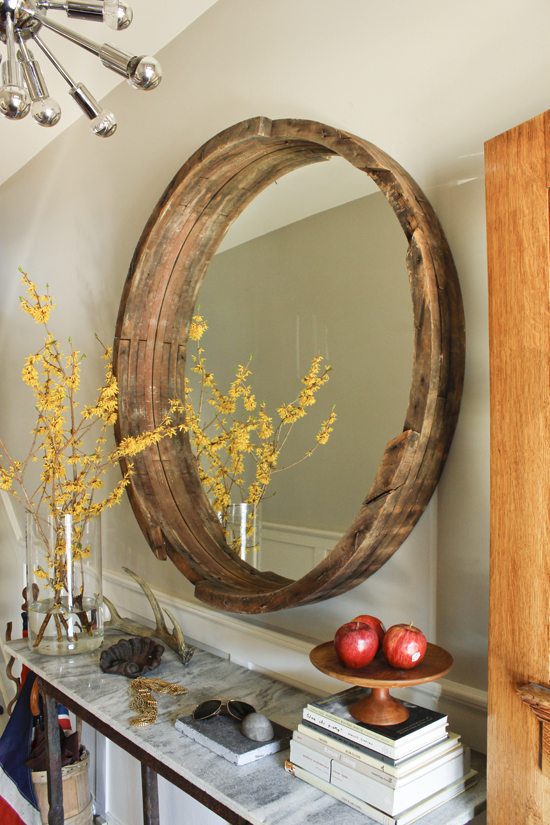 Large circular mirrors really add to the look of a space. We love the design of these gorgeous mirrors for a hallway, living room or bathroom. The only problem is that these beautiful pieces can be quite expensive, so we thought it would be great to explore how easy they are to upcycle.
In order to make a DIY mirror frame you'll need to find something to upcycle. It can be an oculus (a circular window frame), a whisky or a wine barrel. The oculus was bought from an architectural salvage shop. You can find used barrels to buy from wineries or your local online classifieds website.
If you are using a wine/whisky barrel you'll want to cut it down to a manageable mirror size. Be sure to leave a couple rings on so that your mirror will be nice and steady. This one was cut with a saw, a quarter inch above the second mirror ring.
Now take your DIY mirror frame and shop around for a mirror. If you're using a standard size diameter you might be able to find a pre-cut mirror to buy. Otherwise you can have a circular mirror cut at your local mirror/glass shop. It will cost around $30.
Next you'll want to attach your mirror to the frame. Use a strong adhesive such as Gorilla Glue for this. Put a good amount of glue on the back of your mirror and press it into place on the barrel frame. Allow to dry overnight. Your circular mirror will be HEAVY. Be sure to add proper mounting materials such as D-rings for hanging.
That's it! Stand back and admire your gorgeous new DIY mirror frame!
Sources:
Oculus mirror – The Marion House Book
Whisky barrel mirror – A Storied Style