With Valentine's day right around the corner it's time to start thinking about making your own Valentine's day cards. No need to stress, these DIY heart stamps will make it easy to create Valentine's cards for all the special people in your life. Grab some wine and champagne corks and let's upcycle some DIY heart stamps!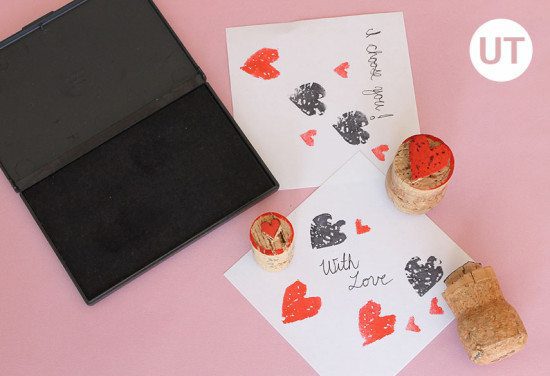 We thought long and hard about what to do for our Valentine's day upcycle. For us, one of the nicest parts of Valentine's day is receiving Valentine's cards. So we decided to upcycle something that would make it extra fun to make your own. These DIY heart stamps are a blast to use and couldn't be easier to make. Let's get upcycling!
DIY Heart Stamps Materials
Wine and champagne corks
Craft knife
Cutting board
Ink pads
Paper
Pen
To make these DIY heart stamps grab a wine or champagne cork. We found that champagne corks work great as the top part gives your cork stamps a nice handle to hold on to. Using an inky pen, draw a heart on what will become the bottom of your stamp. Next slice a circle around your cork a couple centimeters above the bottom. This will give your heart depth for stamping. Champagne corks have a nice ridge that you can use as a guideline for where to cut. Working with small slices, start cutting your heart shape out of your cork. Clean up the edges around your heart. Now test your DIY heart stamp to see how it's looks when in use. Press the cork stamp into an ink pad like you would for any other stamp and then press it onto a piece of scrap paper. At this point you can always tweak your heart shape a bit more. When you are happy with your DIY heart stamp start making your Valentine's day cards!
We found that red and black ink worked great. For our Valentine's day cards we stamped hearts onto white paper squares and then wrote out love messages.
We hope you have a special Valentine's day!