Happy New Year Upcyclers! It's 2018 and we are ready for it. A DIY calendar will help make 2018 your best and most productive year yet. Here's a roundup of our top 10 favourite ideas. Use what you already have and make an awesome calendar to kick off the year!
DIY Calendar #1 – Chalkboard Window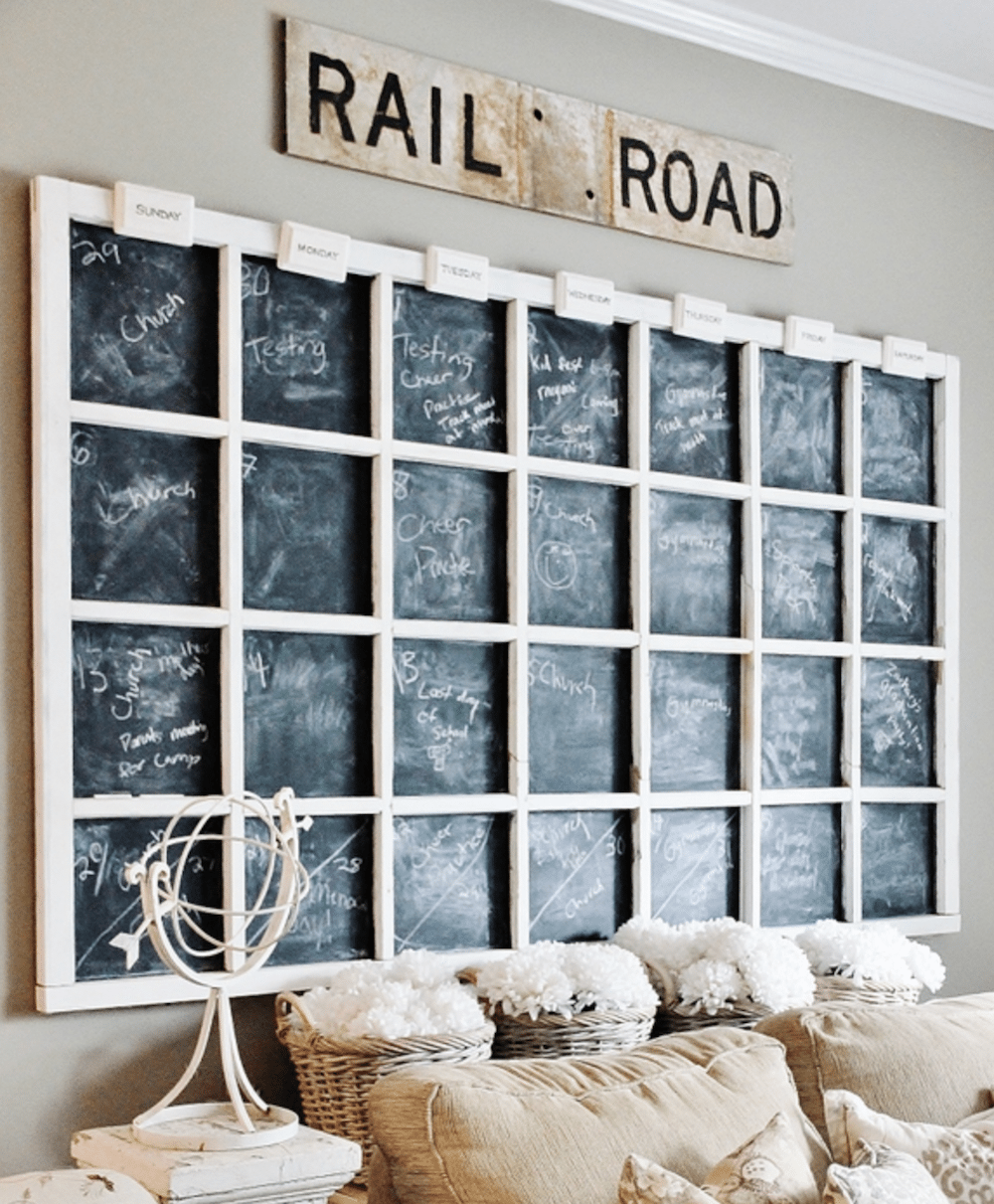 This chalkboard calendar is EPIC! It was made from an old window frame and really speaks for itself. The key to this project is finding the right window. Once you've got it, spray a piece of plywood with chalkboard paint and add it to the back.
Source: Thistlewood Farms
DIY Calendar #2 – Berry Basket
This berry basket calendar is the sweetest. It's got such a lovely nostalgic feel to it. Postcards separate the months and index cards are used for each day. Stamp the top of the cards with the date. This daily calendar would be perfect for journaling!
Source: Design Sponge
DIY Calendar #3 – Monthly Paint Chip Calendar
The paint chip calendar is a classic monthly calendar idea. We like this framed version because you can wipe off the glass and start each month off fresh!
Sources: Her Campus & Epic Everday
DIY Calendar #4 – Pants Hanger
This vintage pants hanger calendar is simple and yet effective. Print out a calendar template you like or create your own.
Source: Tomfo
DIY Calendar #5 – Bicycle Wheel
This bicycle wheel calendar is a really creative way to plan out your week. Paint a piece of plywood and cut it into triangle wedges. Attach these to the spokes and use a chalkboard market to diarize your activities. The best part? The wheel actually spins!
Source: Thistlewood Farm
DIY Calendar #6 – Box Calendar
Here's another take on a daily calendar. This one uses an old cigar box. We love the old school label maker used for the months!
Source: Relleo Mein
DIY Calendar #7 – Weekly Paint Chip Calendar
Love the paint chip calendar but more of a weekly calendar person? Here's an idea for you!
Source: Wonderwood
DIY Calendar #8 – Flag-Shaped Calendar
Vintage pants hangers really do work well for hanging calendars. We love the flag-shaped variation on this monthly calendar idea.
Source: The Merrythought
DIY Calendar #9 – Shadow Box Calendar
This shadow box calendar is perfect for your desk. Find a small box that's a size you like and add some pretty paper to the back. 3 hooks hold the days in place. You can reuse saved paper to make the day tags.
Source: Brico Bistro
DIY Calendar #10 – Chalkboard Mirror Calendar
Transform a thrift store mirror into chalkboard calendar! We love this calendar idea because it's so simple. This is a great project for beginner upcyclers and yet still looks super awesome.
Source: Within The Grove
Which of these ideas is your favourite?