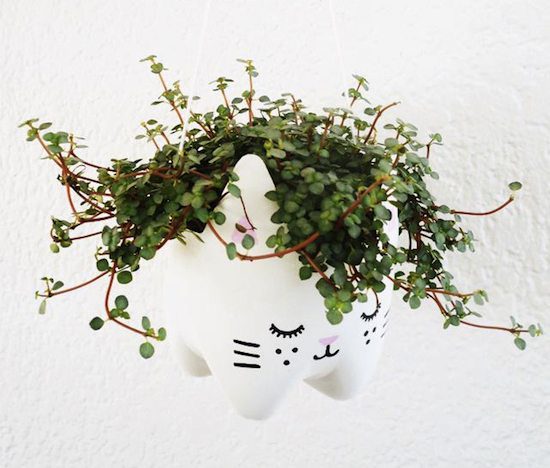 This cat planter pot is absolutely adorable. We love that it uses readily-available plastic soda bottles and that the foot of the bottle is incorporated into the design. This upcycle makes for a great DIY project. Look no further if you're looking to add a sweet touch of green to your home.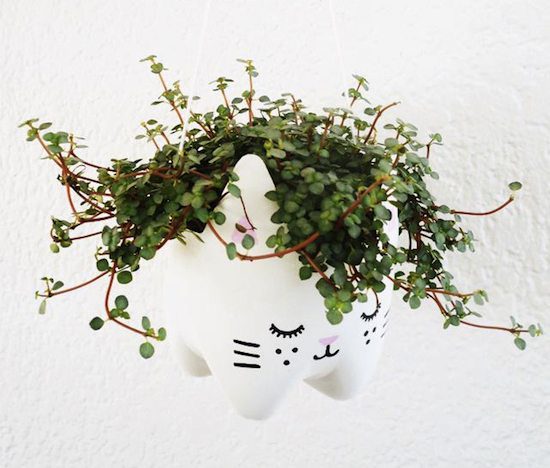 How to make a cat planter pot
To make a cat planter pot you will need: plastic bottles, glossy white spray paint (not matte), permanent markers, scissors and string to hang it up.
To get the car's ear shape, line up this template with your plastic bottle and cut accordingly. Make sure the ears are lined up nicely on both sides with the cat's legs/foot of the bottle.
Next spray the cut bottle with glossy white spray paint. Glossy paint will give a much more polished look than matte spray paint. Be sure to spray in a well protected area with lots of newspaper laid out. You might want to put a rock inside your bottle so that the force of the spray paint does not move it. Be sure to give your cat planter pot lots of time to dry between coats so that the paint dries evenly and without that non-desired drippy look.
Once your cat planter pot is completely dry you can draw on your cat's face using permanent markers. Refer to the template as a guideline. If you want to hang your cat pot planter use a hole puncher to make holes on either side. Then thread your string accordingly.
When planting your seedling be sure to include gravel at the bottom of the planter beneath the soil. This will allow for your plants roots to drain. You could also add a small hole at the bottom of the plastic bottle for full drainage.
You're now done! Be sure to admire your new cat planter pot and remember to water it as necessary.
Source: BruDiy