While a bathroom remodel can be a massive undertaking, it is possible to do it on a budget! There are certain considerations to take into account and we cover them all in today's blog. Follow along!
Bathroom Remodel Budget
The very first thing to consider is how much your budget for the project actually is. This will help you to determine your priorities for the project and where you want to splurge and where you need to save. It might be necessary to take out a personal loan in order to finance the project. It is possible to redo a bathroom on a small budget. This incredible zen-like bathroom remodel was done for $1500!
Source: Gene Pollux for Better Home & Gardens
Bathroom Remodel Schedule
In today's post-pandemic world there are a lot of supply chain issues and shipping delays. This means it takes longer to do renovations. Therefore, having a realistic timeline for the project is key. You can save time and money by going the DIY route and doing as much as possible by yourself. We love the look of this painted tile floor!
Source: Proverbs 31 Girl
Include Shiplap Walls
Thanks to Fixer Upper Joanna Gaines, shiplap has become all the rage. We love the Farmhouse style and shiplap walls are a great way to overhaul the look of your bathroom. The installation is surprisingly easy and affordable. This DIY wall remodel was done directly over the drywall and cost only $175!
Source: Jenna Sue Design
Add a Walk-in Shower
A walk-in shower with glass really makes a bathroom feel luxurious. This is also a great option for a small bathroom remodel that doesn't have room for a bathtub. Add a ledge at the bottom to waterproof the stall.
Source: Adam Albright for Better Home & Gardens
Upcycle a Vintage Dresser into a Bathroom Vanity
A thrifted dresser is the perfect solution for a bathroom vanity! We love the look of this piece. It makes such a gorgeous statement.
Source: at Charlotte's House
Here's a vintage buffet-turned vanity. We also love the antique look of this piece.
Source: General Finishes
Bathroom Remodel: Update the Mirrors
Another way to refresh your bathroom without breaking the bank is to update the mirrors. How amazing is this mirror frame upcycled from a whiskey barrel?!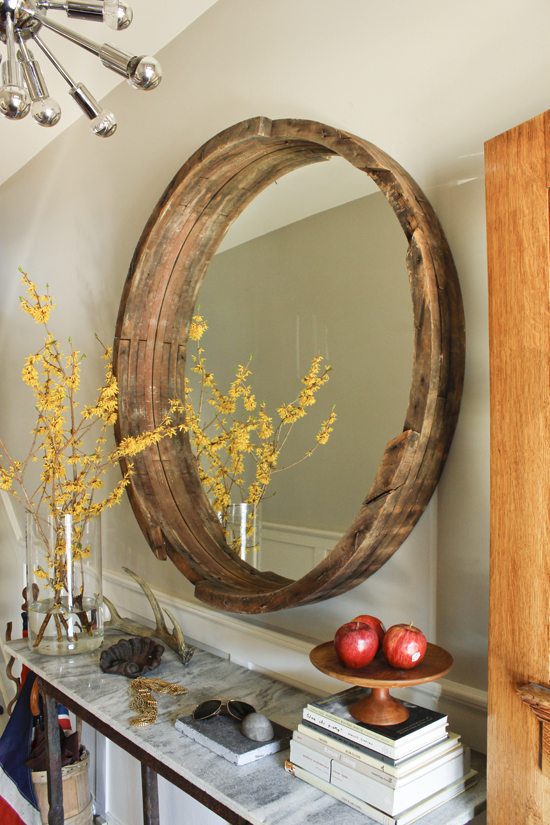 Source: DIY Mirror on Upcycle That
Old Window Turned Bathroom Cabinet
Switching out the bathroom cabinet is another cost-effective way to revamp your bathroom. The rustic chic look of this window-turned-bathroom cabinet is so stunning!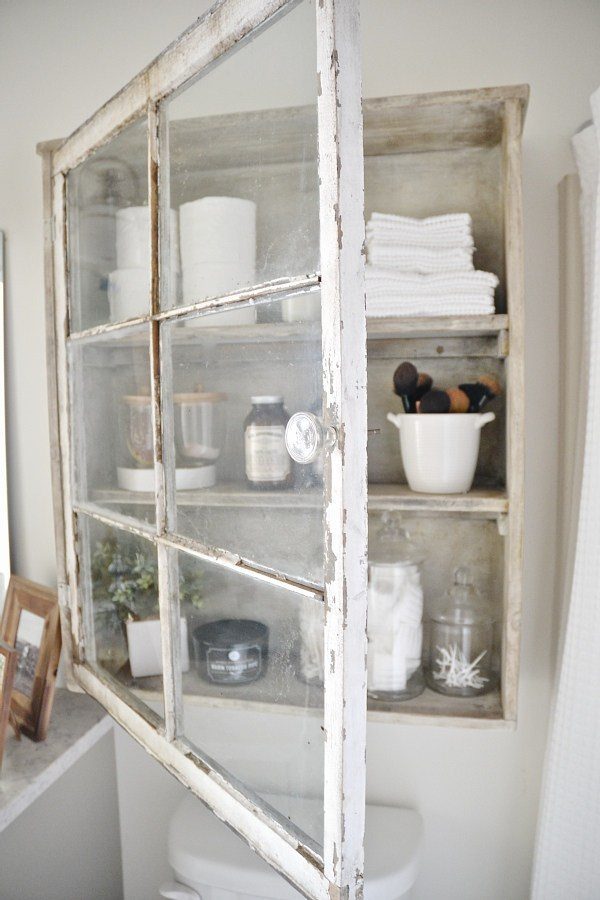 Source: DIY Bathroom Cabinet
Wall-Mounted Shower
Wall-mounted showers are great for saving space. They also look super stylish! This is the perfect look for a bathroom remodel in a small area.
Source: The Nordroom
Bathroom Remodel – Decisions to be Made
When it comes to your bathroom remodel, there are so many decisions to be made. There are endless options from the floors, to the walls, to the shower, to the mirror, and to the cabinets. In order to maximize your budget, we suggest starting with the elements that mean the most to you. Sometimes you just need to change 1 or 2 things to make a big difference. Light fixtures and hardware can also be swapped out for minimal cost and can have a huge impact.
Which of these bathroom remodel ideas is your favorite?