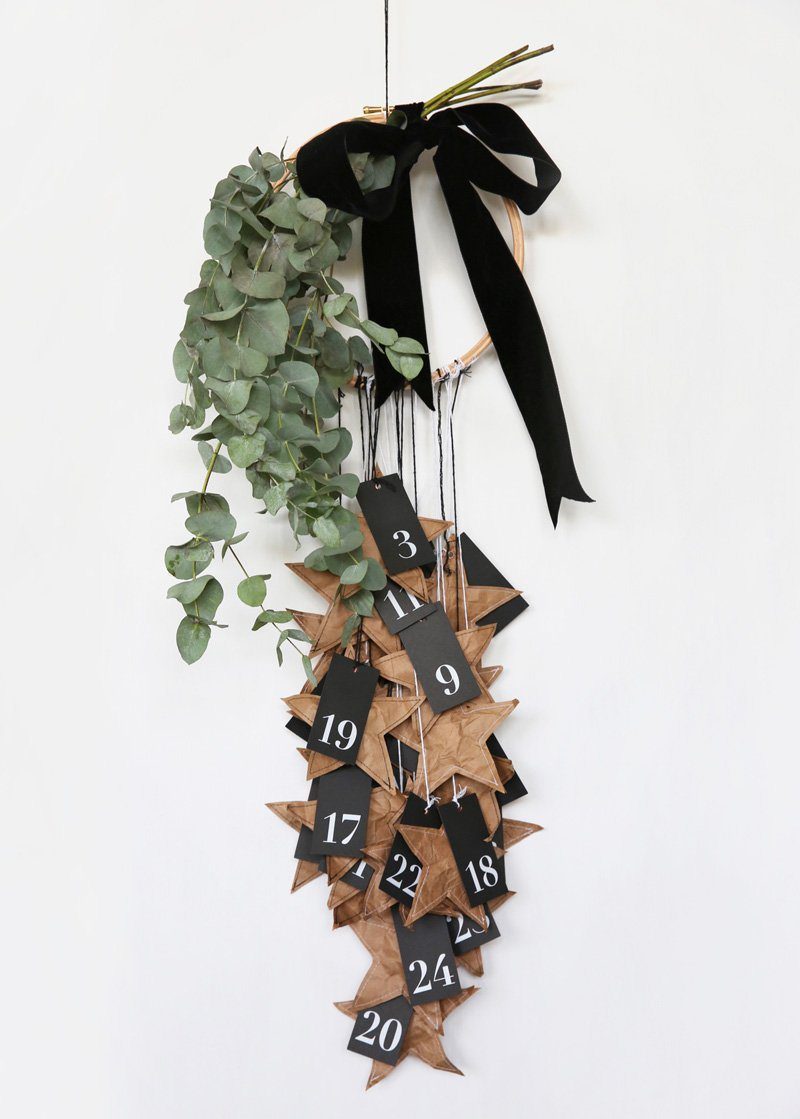 We love a good countdown to Christmas and we love a great advent calendar even more! There are so many awesome advent calendar ideas. This is a great project to make with upcycled materials. It's so easy to make a gorgeous advent calendar. Let's take a look at our top 5 advent calendar ideas.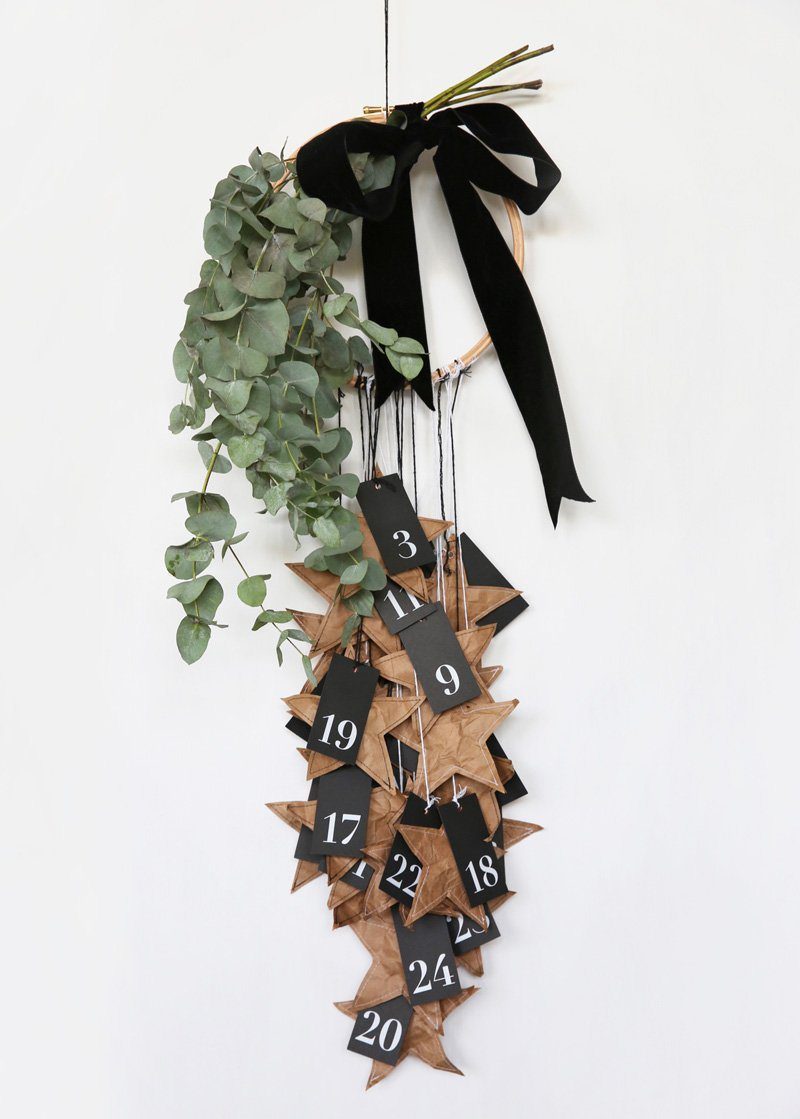 1. Brown Paper Star Advent Calendar
This brown paper star advent calendar is such a dream! It was made using upcycled brown paper packaging. Do you ever order products online that come in brown paper? Save your packaging to make gorgeous upcycles like this!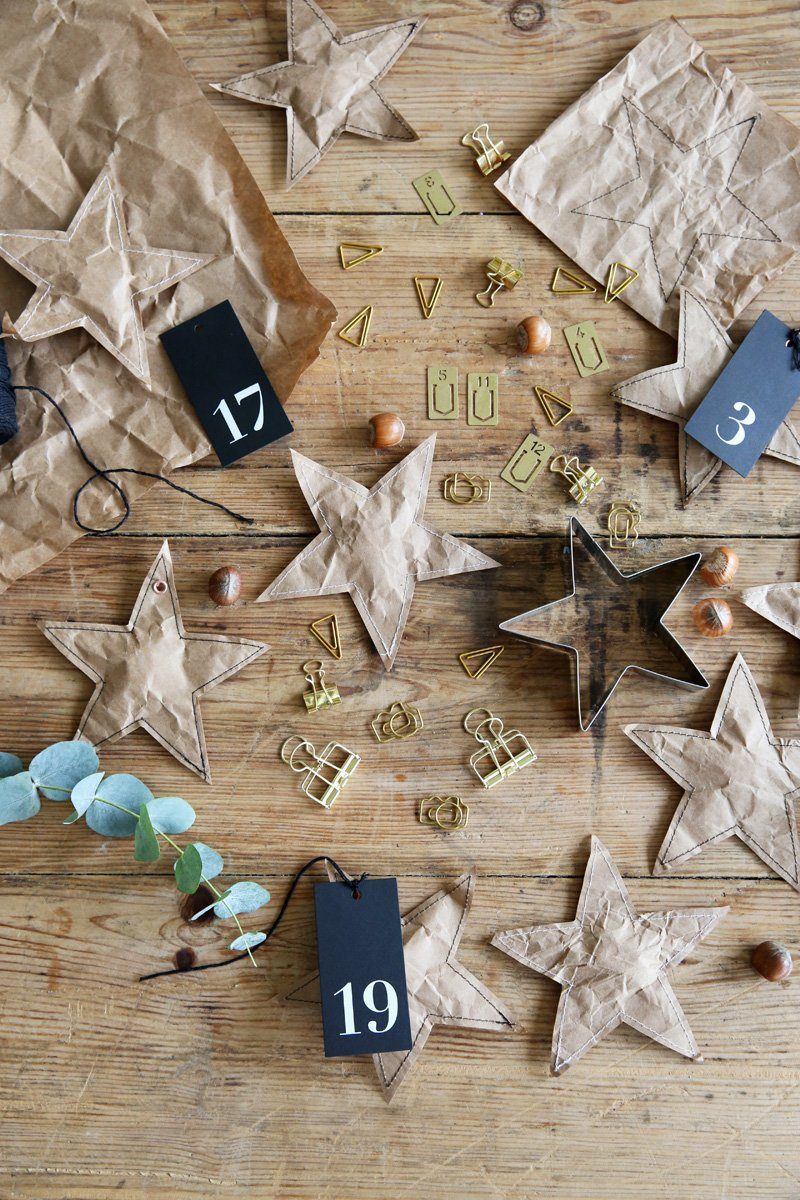 To make it: use a cookie cutter to draw out your star template and then sandwich your goodies between two stars. Sew the stars to seal them. Punch a hole in the star and tie on the numbered tags. Hang the stars on an embroidery hoop with baker's twine. Finish the look with a sprig of Eucalyptus and a ribbon.
Source: Papermash
Baby Jar Advent Calendar
We are so into baby jar upcycles! This advent calendar idea is simple and effective. First remove the labels and clean your baby jars. Then paint the jars and their lids with different shades of green.
This wasn't the method shown, but if you'd like a really polished look, you can swirl paint on the inside of your jars instead of painting the outside. Add numbered tags and group them to display.
Source: Caracteri Elle
Toilet Paper Advent Calendar
This toilet paper advent calendar is next on our list of best advent calendar ideas. Toilet paper rolls are so readily available! As an alternate idea you could cut paper towel rolls into thirds. To make them into pouches, press down the top and bottom of your toilet paper rolls. Decorate your pouches with ribbons, bells, twine, bits of evergreen… there are no limits to your creativity!
We love how many different ways there are to display this advent calendar idea. Place them in a tray or basket, hang them on the wall in the shape of a tree, hang them on a tree… the list goes on.
Source: Casa Haus
Paint Chip Advent Calendar
This paint chip calendar is a lovely idea. Instead of giving sweets and small presents you write down seasonal activities instead. They can be fun, like watching Love Actually, or more meaningful, like calling an old friend to catch up.
To make the paint chip advent calendar, cut out triangles from the template (see link below) and then use that as a guide to cut your paint chips. Then glue the two pieces together. The stand is made from wooden dowels, but chopsticks could also work. Glue the sticks onto a piece of cardboard with a glue gun. Glue the garland around it and then arrange your paint chip trees.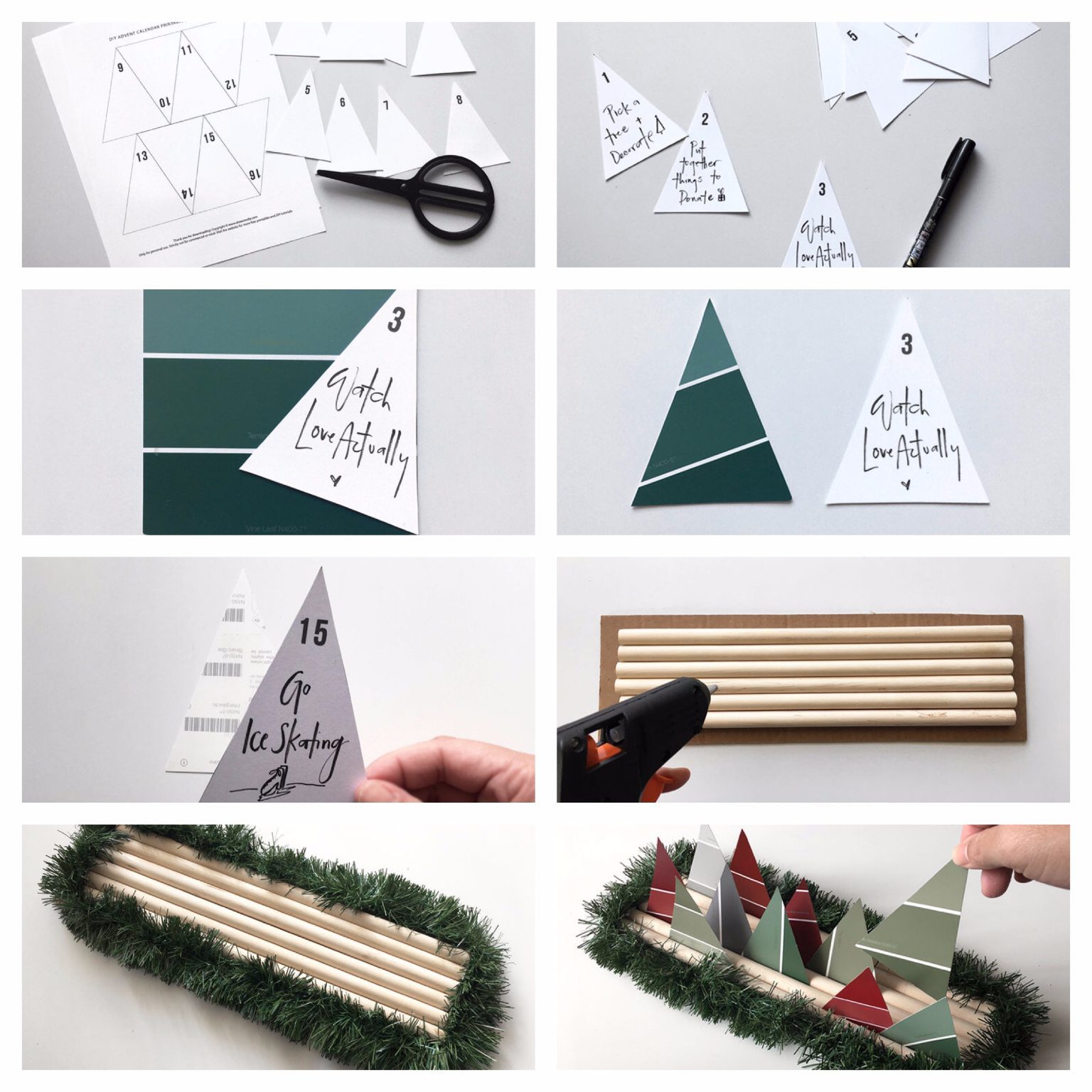 Source: Drawn to DIY
Matchbox Advent Calendar
This matchbox advent calendar is another great addition to our list of advent calendar ideas. We love that it's a smaller advent calendar and perfect for tiny treats and notes. The best things come in small packages right?
Stack and glue your matchboxes into 3 rows of 8. Glue the 3 rows together to make a chest. Cut a colourful strip of paper and wrap it around the chest. Glue that into place. Under each box, loop a piece of ribbon and hot glue it into place. This will make a little tab to pull out the matchbox drawer. Number one side of the boxes and paint a tree or another design on the back. As the countdown progresses, the design will be revealed!
Source: Martha Stewart
Tell us what you think – which of these advent calendar ideas is your favourite?