Pallets are super versatile and easy to upcycle. There are lots of awesome DIY pallet furniture projects. Want to make something with a pallet? Get some inspiration as we take a look at 5 of our favourite pallet upcycles.
Private Pallet Cinema
Pallets on pallets! Making this movie room (complete with backboard for your television) is not only easy but a great way to to show off your upcycling skills to friends and family.
What could be cooler than a Private Pallet Cinema?
Pallet Shelving
Rustic and gorgeous are two words that perfectly describe these shelves. And you'll be surprised at how simple they are to make.
Get inspired to make your own Pallet Shelving
Handpainted Pallet Coffee Table
Not only does this pallet make a great coffee table but it has a storage section too! All it takes is a little sanding and some paint to transform your pallet.
Find out more about this Handpainted Pallet Coffee Table
Pallet Plate Rack
The perfect addition to any rustic or 'natural' kitchen? This beautiful plate rack. We love it!
Check out this Pallet Plate Rack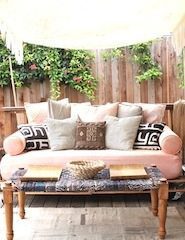 Pallet Daybed
What could be cooler than a pallet daybed that you made with your own two hands? Nothing. So if you have a couple of pallets collecting dust, put them to good use!
Find out how to make your own Pallet Daybed
What's your favourite pallet upcycle?